Are You Ready for the Season 10 Championship Closed Qualifiers and Finals?
This weekend, get ready for the Closed Qualifiers! Teams are playing for a $5,600 USD in cash and gear from our sponsors: HyperX, ProtubeVR, VR Cover, and Asterion!
Details: https://vrmasterleague.com/Pavlov/Championships/Season10
In EU, Cat'astrophy, Technical Difficulties, Virtual Assassins, and Lucky Round are still in the running! The winner from this weekend will have a shot at the Semi-Finals and play against Old People, Crimson Claw, and Friendly Fire qualified for the Semi-Finals. It's going to be an exciting next couple of weekends!
Follow all the action on our Twitch channel: https://twitch.tv/pavlov_vrml
It starts on Saturday, October 22nd at 1700 UTC (1 PM EDT) and on Sunday, October 23rd at 1730 UTC (1:30 PM EDT).

In NA, Soulstice and Vortex will close up the Round Robin stage and then we'll dive into the NA Closed Qualifiers! Wonder Land, NARC_0S, Jabberwocky, and the Round Robin winner will play for a spot in the Semi-Finals and a piece of the prize pool! Tune in this weekend!
Saturday, October 22nd at 7 PM EDT (4 PM PDT) and Sunday October 23rd at 7 PM EDT (4 PM PDT).

It's all part of the VRML Fall Fest 2022! We'll be giving away prizes to viewers and the community! Stay tuned!
New Match Recap Videos!
A couple community members have gotten together to creat weekly match recaps under the "Pavlov Match Report". Please go watch their content here: www.youtube.com/channel/UCWM8COZ8iYeMtqL-J_v48mg
They have 3 episodes out at this time. Make sure to subscribe and turn on your notifications to be alerted everytime a video drops. You can also join their Discord server to give constructive feedback, recommend clips for their next video, and chat with the creators. Thank you Pavlov Match Report for all that you do!
And, don't miss player montage videos and clips posted in our Discord server!
Quicksaber's "Enemy Brain - Pavlov Montage #11" https://youtu.be/1zj7h-EwGQE
JT Clark (Theodore)'s "They called washed - Pavlov Highlights 6" https://youtu.be/L-2RRkwEXKY
choomah's "My highlight clips from cc vs op" https://youtu.be/lMgntyStc8U
AfterThoughts' "Mr. Manor" https://youtu.be/RxOyquentMs
O.o's "Extra Clips #8" https://youtu.be/WnP4SczF0YY


Keep up to date with their content by giving them a follow!
Season 10 is Being Extended!
We have some news for you!
We will be extending Season 10 by an additional 3 weeks. this will increase the season length from 16 to 19 weeks. The reason we are doing this is to line up the grand finals weekends more in sync with the other leagues, and will therefore have consecutive weekends of grand finals across VR Master League. We are also increasing it to reduce off-season as we are working on a new formula for season planning, more in depth about this process is to be discussed and revealed in the off-season, but for now we are planning a "Annual Calendar" to showcase all seasons and off-seasons and the off-seasons events in one calendar year, we just need to make sure we are able to execute on this before actually doing it, and it requires a little bit more work to determine possibility. You can find the new updated calendar below as well as being able to do the command "!Calendar" in the bot channel.
We have also been discussing the Open Qualifier, Closed Qualifier and Bronze, Semi and Grand Finals format and we have been getting a little bit sidetracked getting this sorted. but we are hoping to have something final to announce very soon so bare with us a little longer!
Stay tuned!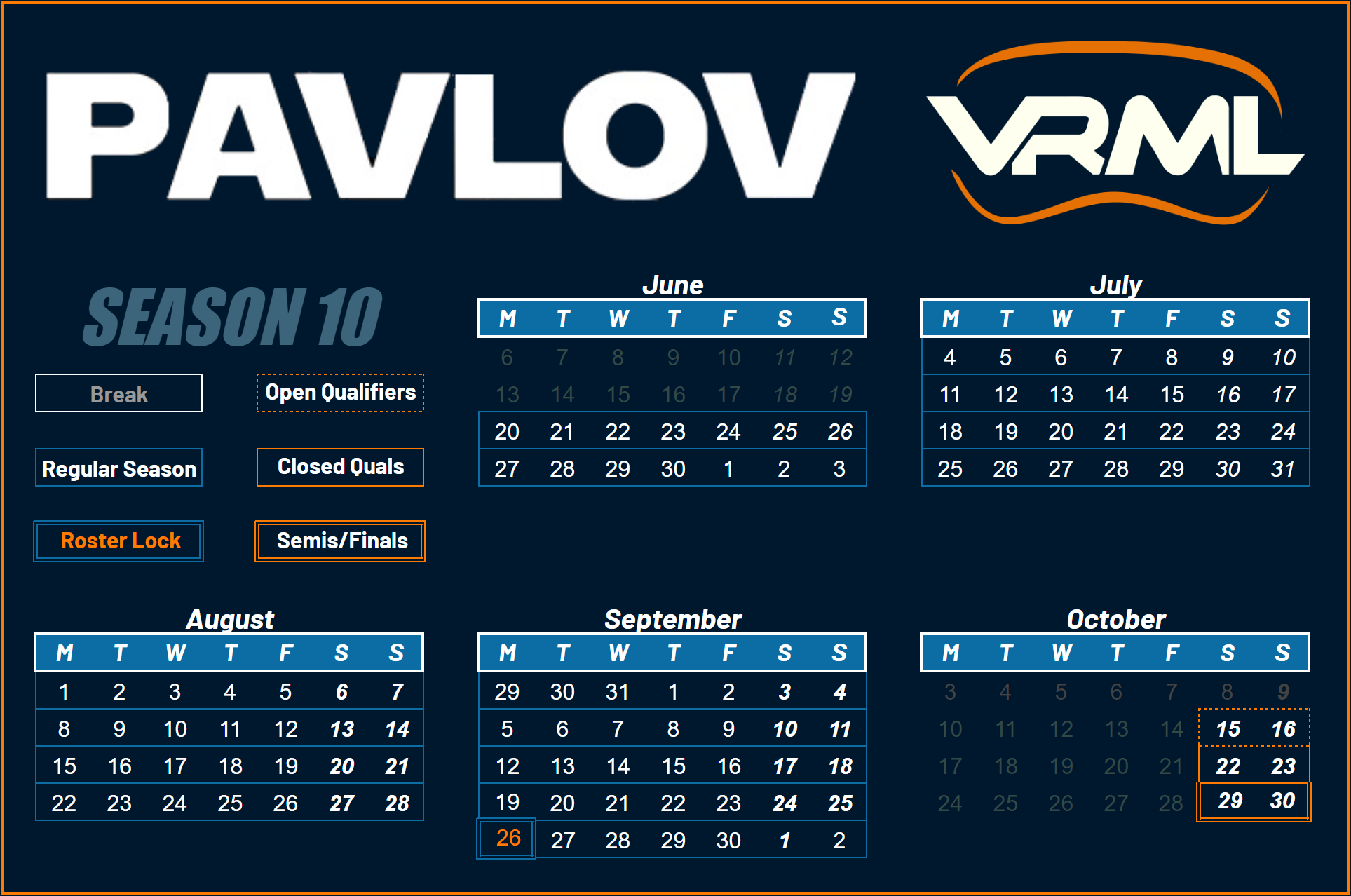 Season 10 Has Been Announced!
Start date: June 13th!
The community is busy ironing out the details, giving feedback about the map pool, and forming new teams! Don't miss out!

Register here: http://vrml.gg/pavlov/register
Join the Discord server here: https://discord.gg/G6T5JR9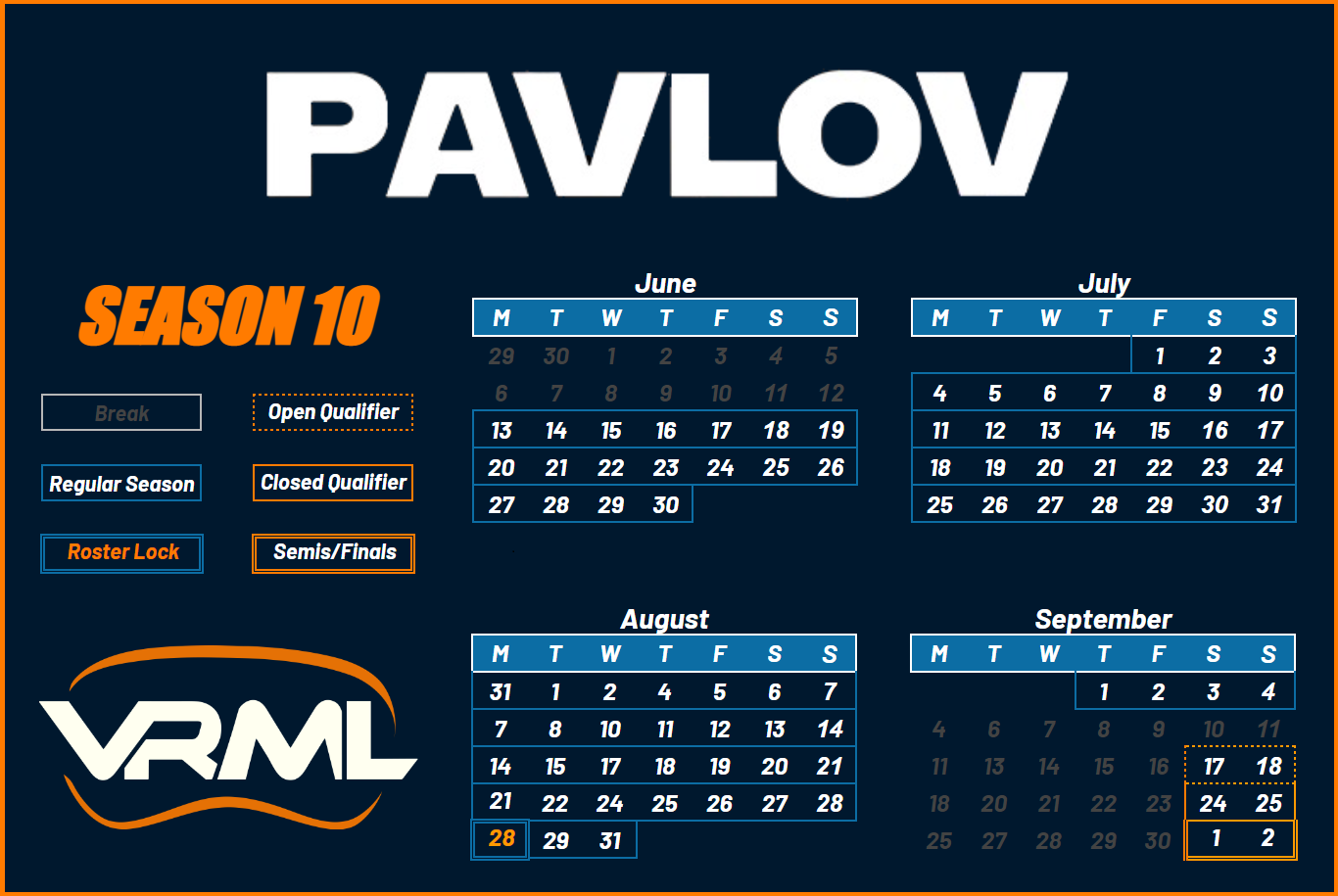 Announcing the Pavlov Montage Edit Competition!
ANNOUNCING OUR SEASON 9 CHAMPIONS!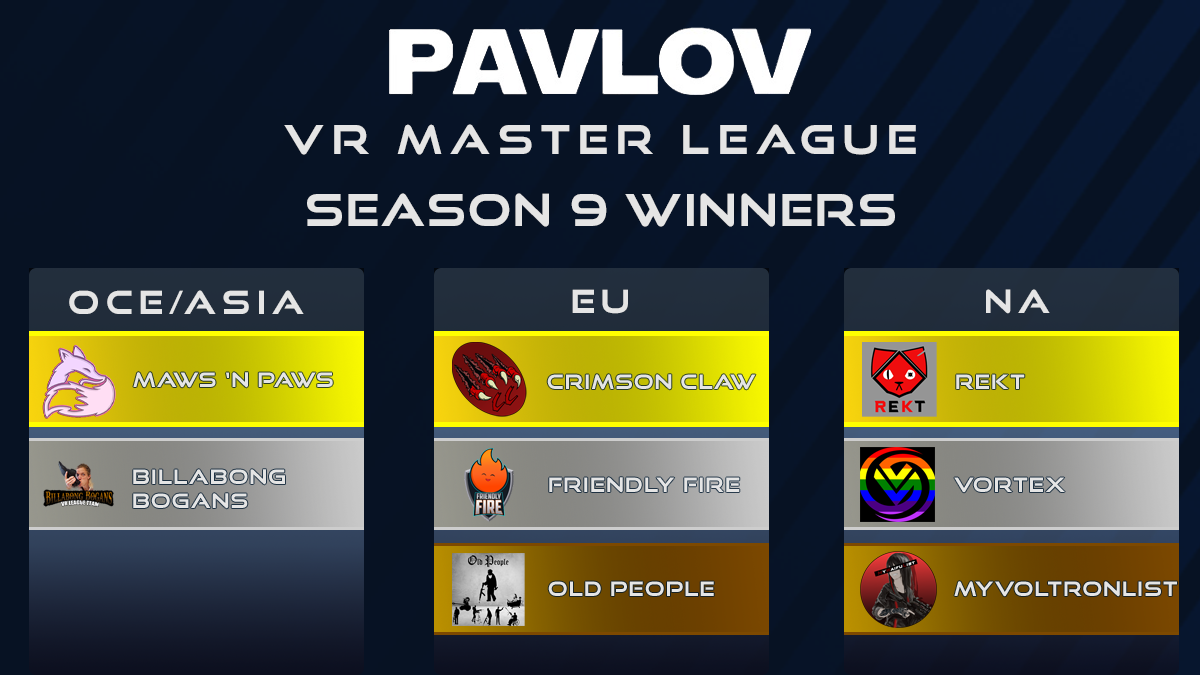 Special Mentions
Finnish Bear Influenced for stunning viewers with an impressive performance during Closed Qualifiers!
Soulstice for coming out of nowhere and impressing with their organization and dedication to the game as one of the best new teams this season!
Thanks!!
To the P
avlov VR
comp community for another great season, filling out the feedback form, & for showing up for casts. Tune in today for the Mod Q&A session. We will be taking your feedback to help shape Season 10!!

1430 PDT | 1730 EDT | 2130 UTC
https://discord.gg/ee9CtSc9?event=965432038624735312
To our sponsors & partners!
They contributed to bring Pavlov VRML it's biggest prize pool worth $7,500 USD & over $800 in giveaways for the community!
And, we would like to thank the Mod & League Casting team for all the hard work they have done this season & the amazing show this weekend. Without them it would not be nearly as fun to watch these games!
Check out their personal streams for more great
community
content!

See you all in Season 10!
Season 9 Championship Finals are This Weekend!
North American, European, and APAC top teams battle for the crown and $7,500 prize pool! Join us for excellent Pavlov VR and giveaways!
APAC Finals - Saturday April 16th, 2000 AEST (0600 EDT)
Billabong Bogans vs Maws 'n Paws
Vying for the title of APAC Champions and $900 USD prize pool, this battle is one in the making! In three encounters, Maws 'n Paws have overtaken the Billabong Bogans twice. Billabongs have a great track run this season, finishing 2nd!
European Semi-Finals - Saturday April 16th
Crimson Claw vs Finnish Bear Influenced at 1130 EDT
Old People vs Friendly Fire at 1330 EDT
FBI snagged the final spot in the Semi-Finals with an impressive upset during last week's closed qualifiers! They'll be going up against 1st place Crimson Claw. Can they pull off another upset against this undefeated team? Then, Old People and Friendly Fire will be facing off! Exchanging blows all season, this match will be down to the wire as both teams fight for spot in the Finals! The winning team of each match will qualify for the Grand Finals, while defeated teams will play for 3rd place in the Bronze Medal Match.
North American Semi-Finals - Saturday April 16th, 1830 EDT
REKT vs Dream Team
Vortex vs MyVoltronList

One of the 10 biggest rivalries of all time, REKT and Dream Team are playing again for the coveted 1st place! Vortex and MyVoltronList are also in the mix, both looking to make it their year as Champions! Who will move on to the Finals? Who will be eliminated? The winning team of each match will qualify for the Grand Finals, while defeated teams will play for 3rd place in the Bronze Medal Match.
European Finals - Sunday April 17th

Bronze Medal Match at 1130 EDT
Grand Finals Match at 1330 EDT
North American Finals - Sunday April 17th, at 1830 EDT
Bronze Medal Match
Grand Finals Match
This is it! These matches will be the last chance for these teams to give it their all and take home a piece of the prize pool! Join us for the conclusion of Season 9!
Full Championship Details: https://vrmasterleague.com/Pavlov/Championships/Season9
Live on Twitch! http://twitch.tv/pavlov_vrml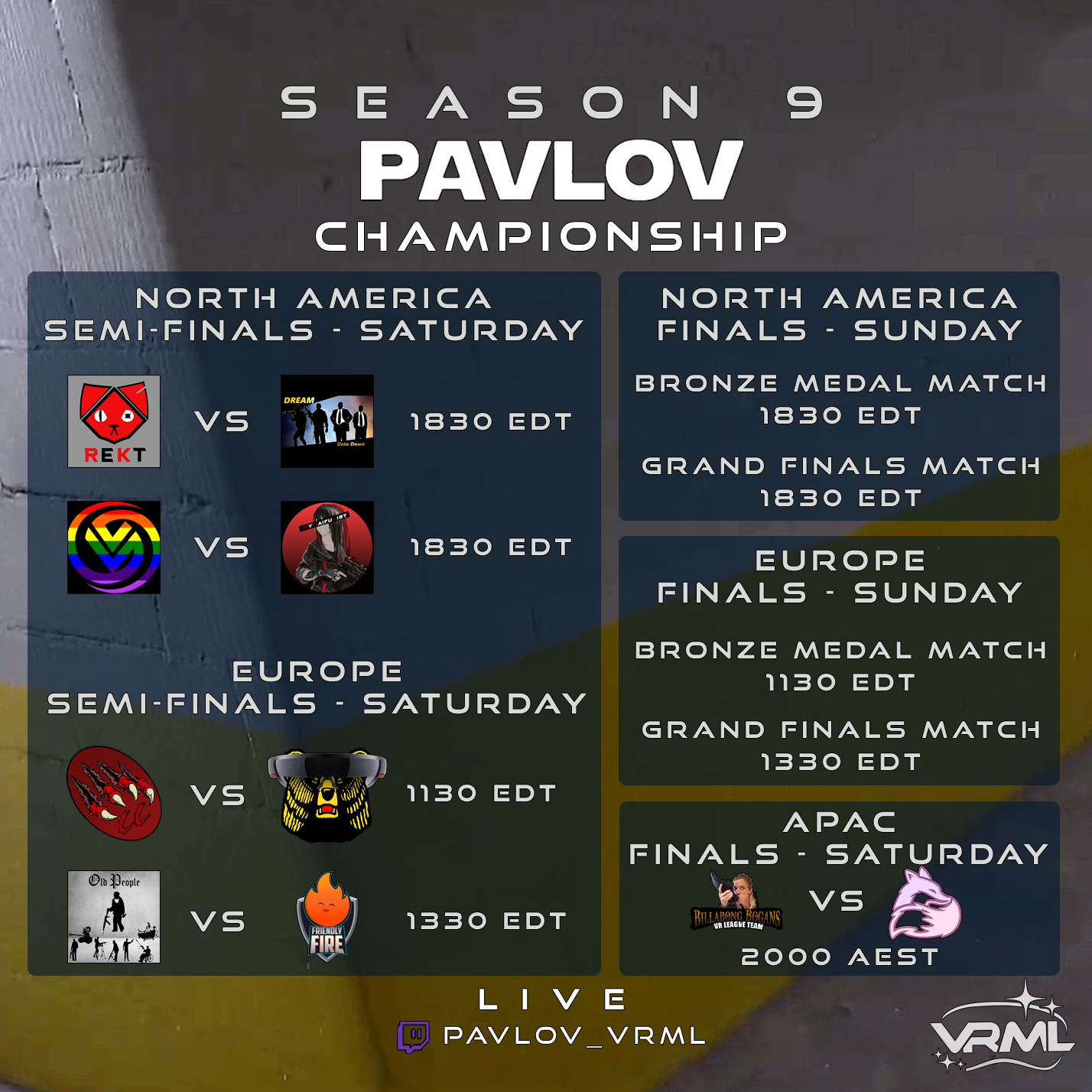 Season 8 Feedback Form is Out!
Thanks everyone for an exciting and competitive Season 8 ! Hopefully everyone is trying out the extensive new updates to the game and honing their skills using the new weapon balance, prices, movement differences, and utility limits. There are quite a few changes which will make for stimulating challenges and new opportunities for all players and teams.
We'd like to hear your thoughts on Season 8, what changes you would like to see for Season 9, and any other feedback you would like to share with the moderation team (including but not limited to, 'how soon should Season 9 start?')
We've created a convenient survey here: https://forms.gle/CsuUB3VBKM8yiJSW9
Our goal is to improve the league and address our community's evolving needs and desires. Please take the time to fill out the survey so that your voice can be heard and we can work together to make Season 9 the best one yet!
Have You Played the Newest Pavlov VR Beta Branch?
Now that season 8 is all wrapped up, we invite you to turn your attention to all the advancements made in the Pavlov VR Beta branch. Junt, community manager at Vankrupt Games, gave us the low down on the fixes and features that are new in this version and that are relevant to the Search and Destroy Mode:
-New skins with 1 drawcall to help performance
-New asynchronous loading system to help performance
-New industry map
-SND utility buy limits
-Added jiggle prevention to rapid strafe movement
-Various weapon tweaks with both interaction and balance (may need to view patch notes from betas to understand them all)
-Bomb explosion effects
-Grenade explosion effects
-PavTV now back online (still has a few kinks to iron out)
-Added bomb kill feed icon for SND
-Added new bullet decals for player bullet hits
-Added new server browser filters for TTT and OITC
-Added ability to attach laser to m9, de, and revolver
-Added ability to attach laser/flashlight to p90 and pump shotgun
-Added magazine optimizations to help with performance
-Adjusted net code to prevent high ping player advantage (competitive only)
-Added M'Kay slap mechanics to MP5, SMG, Autosniper, and AUG
-Adjusted Deagle to increase reloading speed slightly
-Adjusted bolt for AWP and anti-tank rifle to be more forgiving on fully latched and unlatched state
-Adjusted Vanas lowered RPM and boosted horizontal recoil
-Adjusted P90 recoil
-Fixed not being able to pick up grenades on the ground even though they're highlighted
-Fixed SND bomb was able to be clipped when not planted
-Fixed the autoshotgun loading bounds
-Fixed culling issue in Santorini
-Removed bolt release binding from MP5, SMG, Autosniper, and AUG
-Added 'bVerboseLogging' server config var to now log killed/killedby/headshots/SND bomb Plants/Defuse/Explosions/Teamswitching/Teamkills/Roundstatechanges
-Added 'bCompetitive' option to game.ini default value is false. It will allow community servers to run competitive SND.
-Added basic stat tracking for community servers; it will dump to logs at match end (kills, assists, deaths, headshots, bombs planted, bombs defused, chickens killed etc)
-Added 'SetPin rcon command' (if no pin is passed in it will unlock the server).
Many community members have already been exploring the branch. Check out YellowHat's content on his YouTube Channel!
If you want your opinions about this branch known before next season, join the Pavlov VR Discord server and give your valuable feedback in the #pc-beta-feedback channel.
See you on the battlefield!