VRML Con 2023 - Save the Date! June 3-4
In partnership with
Resolution Games
and
Read At Dawn
, Blaston, Ultimechs, and Echo Arena will be the line-up of featured games at VRML Con 2023! More information will become available in the coming weeks. Attached to this announcement is the VRML Con logo, designed by our very own production team.
For Echo Arena, 2 North American finalist teams from Season 7 will be flown out and lodged by VRML. So much more than just prizing next season! It is where we will hold the NA Grand Finals and there will be plenty of other things to look forward to.

Echo Arena EU & OCE
When that original announcement was made, there was some disappointment that the Echo Arena activities were going to be NA only. We appreciate communities from OCE and EU for coming together and showing their enthusiasm for the event! And as such, we have started to explore "Pay Your Way" options for EU and OCE. The exact details are still being fleshed out, but we are committed to providing those details prior to the start of Season 7.
Blaston and Ultimechs
In 2022 Resolution Games started their esports journey with Blaston, where they partnered up with VR Master League. Bringing you Blaston VRML Season 1. Following that, we started the VRML Pre-Season for Ultimechs which has it's finals now in January, so I hope you tune in for that. But their journey doesn't end there because in 2023 they'll be continuing esports initiatives for both Blaston & Ultimechs, Resolution Games will be seeing new seasons, new tournaments and new competitions. Now when both of the games are free-to-play, there's no excuse for you to not join in on the action. Who knows, maybe you'll need those skills coming June 2023 as we'll be joining the VRML LAN in Denver, Colorado. More details about format will be made available soon!
We hope that many of you will come out and join us for our 1st event to meet us in person, play some games, and enjoy some HYPE VResports!
Echo Arena VRML Season 6 Championship is HERE!
New Game Coming to VRML! Welcome Ultimechs!!
We are very excited to be announcing the partnership between VRML and Resolution Games for their newest game: Ultimechs! We will have more news soon relating to the preseason coming up, but until then we need your help!
VRML is a community based league that could not happen if we did not have help from you. Our League Moderator and Production Team applications are open to community members looking to help build and grow the Ultimech VRML community.
Moderator Application https://forms.gle/FGUu2VjKUiMDuMHt7
Description found within the application.
Production Application https://forms.gle/U3JdioLD9cuid684A
Description https://vrmasterleague.com/Volunteers.
If you have any questions please feel free to ask! Thank you for your interest and helping VRML grow its new Ultimechs community!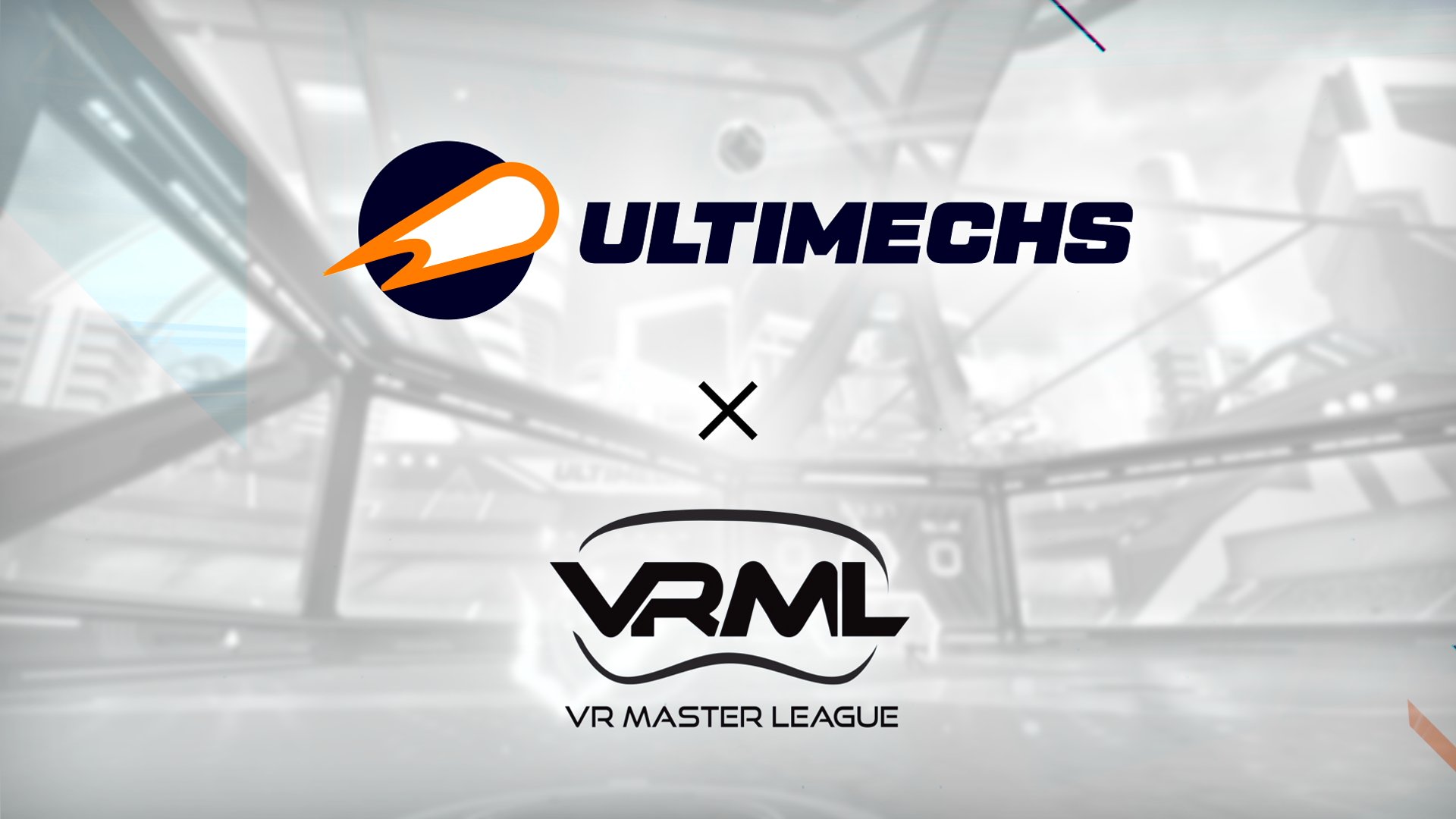 Are You Ready for the Pavlov VRML Season 10 Closed Qualifiers and Finals!
This weekend, get ready for the Closed Qualifiers! Teams are playing for a $5,600 USD in cash and gear from our sponsors: HyperX, ProtubeVR, VR Cover, and Asterion!
Details: https://vrmasterleague.com/Pavlov/Championships/Season10
In EU, Cat'astrophy, Technical Difficulties, Virtual Assassins, and Lucky Round are still in the running! The winner from this weekend will have a shot at the Semi-Finals and play against Old People, Crimson Claw, and Friendly Fire qualified for the Semi-Finals. It's going to be an exciting next couple of weekends!
Follow all the action on our Twitch channel: https://twitch.tv/pavlov_vrml
It starts on Saturday, October 22nd at 1700 UTC (1 PM EDT) and on Sunday, October 23rd at 1730 UTC (1:30 PM EDT).

In NA, Soulstice and Vortex will close up the Round Robin stage and then we'll dive into the NA Closed Qualifiers! Wonder Land, NARC_0S, Jabberwocky, and the Round Robin winner will play for a spot in the Semi-Finals and a piece of the prize pool! Tune in this weekend!
Saturday, October 22nd at 7 PM EDT (4 PM PDT) and Sunday October 23rd at 7 PM EDT (4 PM PDT).

It's all part of the VRML Fall Fest 2022! We'll be giving away prizes to viewers and the community! Stay tuned!
Fall Fest 2022 is Here!
Get ready for VRML Fall Fest 2022!
6 weekends, 3 leagues, 1 passion
This fall, we're showcasing Pavlov, Onward, and EchoArena_VRML championships as part of a 6 week event! Hot VR esports action, HyperX giveaways, and killer commentary!
Pavlov VRML Season 10 Championship starts October 15th with qualifiers for EU and NA.
Onward VRML top 4 teams from OCE/Asia region and top 8 from each EU and NA regions will battle to ascend to the Season 13 World Finals, also on October 15th and 16th. For details, see vrml.gg/Onward/Championships/Season13
Last but not least, Echo Arena VRML Season 6 Championship events will be starting November 5th for OCE/Asia, EU, and NA.
Stay tuned for details and good luck to all our participants! We will be giving away prizes to the Championship winners as well as to our viewers and community members.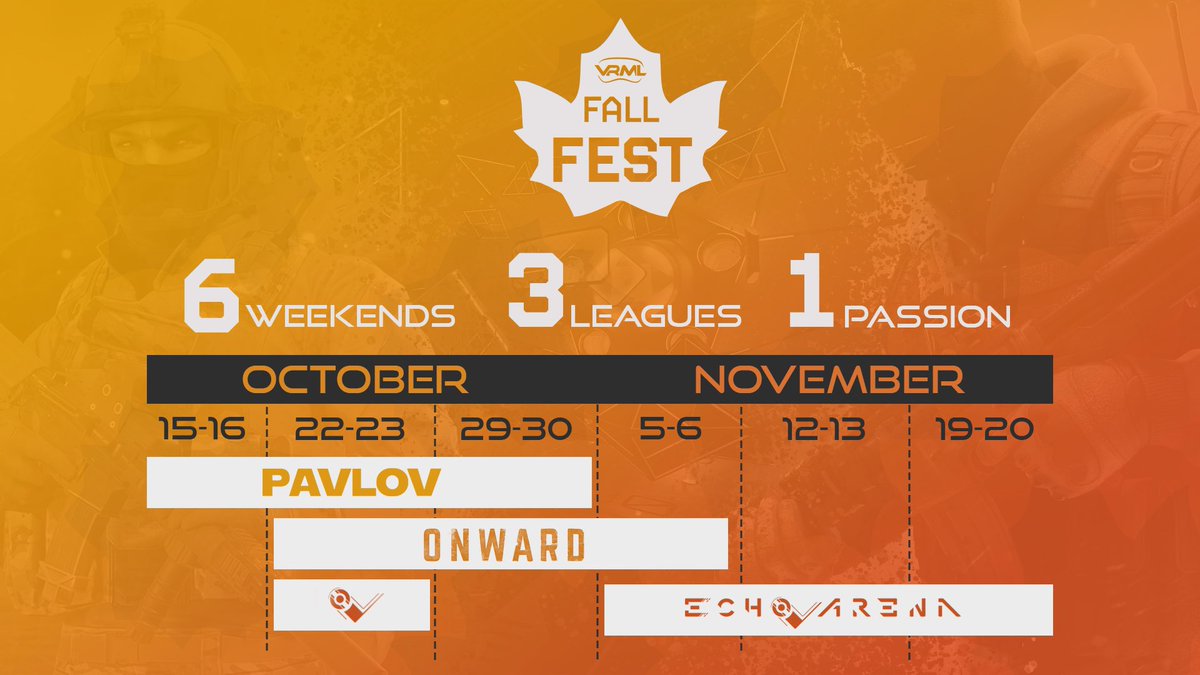 Blaston Championship 2022 Phase 1 Finalists & Phase 2 LCQ Details!
Hosted by Resolution Games, they're bringing you the 1st official championship circuit for Blaston! Join today and compete for over $10,000 in the biggest VR esports competition of 2022! VRML is happy to participate and help organize this tournament!
Players gather champion points and qualify to the championship finals.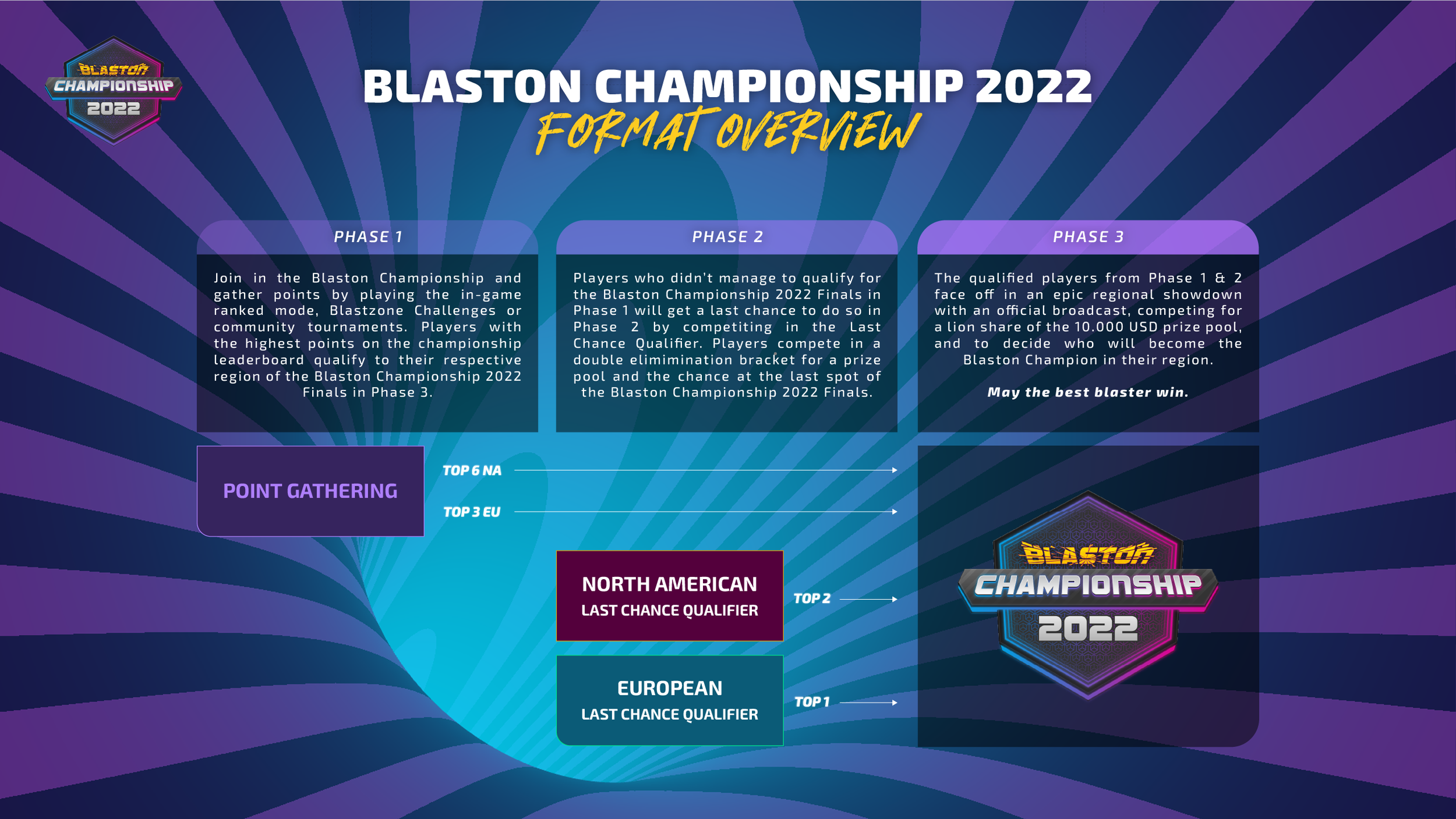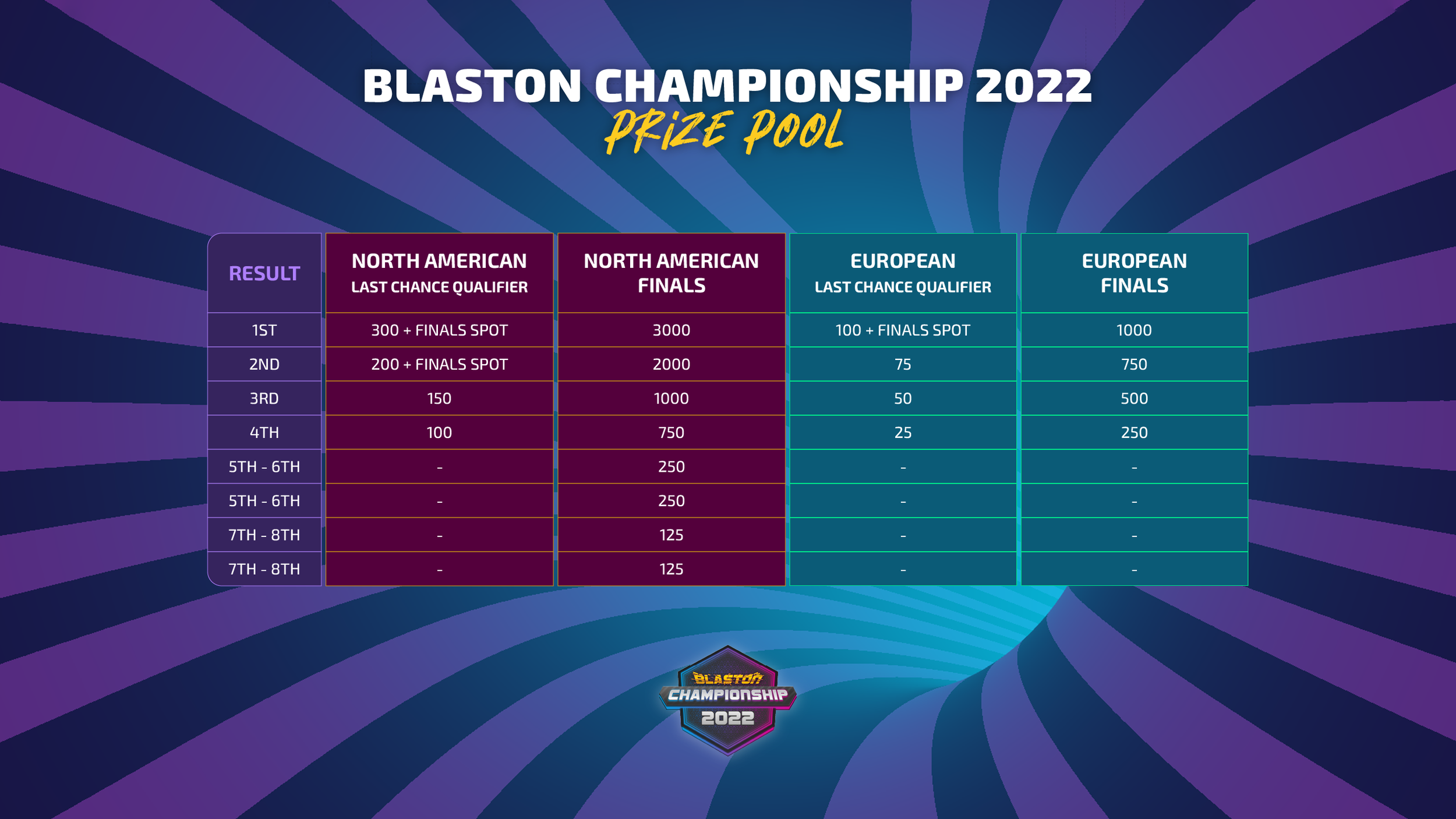 Players in North America and Europe could participate in a series of tournaments, challenges, and events to gather points in Phase 1 of the Blaston Championship. Once collected, their championship points are shown on a regularly updated regional leaderboard. Here are your first set of finalists in the North American & European regions who will head to the finals this November!
North American Finalists:
24
jjjosie19
tim611
Master17
Bearblast
Poonmyshoo

European Finalists:
MontyBann
Turb0
Slowyd
Didn't make it in Phase 1? No worries! Players can now register for the Phase 2 Last Chance Qualifier, read more: https://reso.ly/3y5sApV
Sign up here https://vrmasterleague.com/Tournaments/BlastonChampionship2022LCQ
Good luck to all!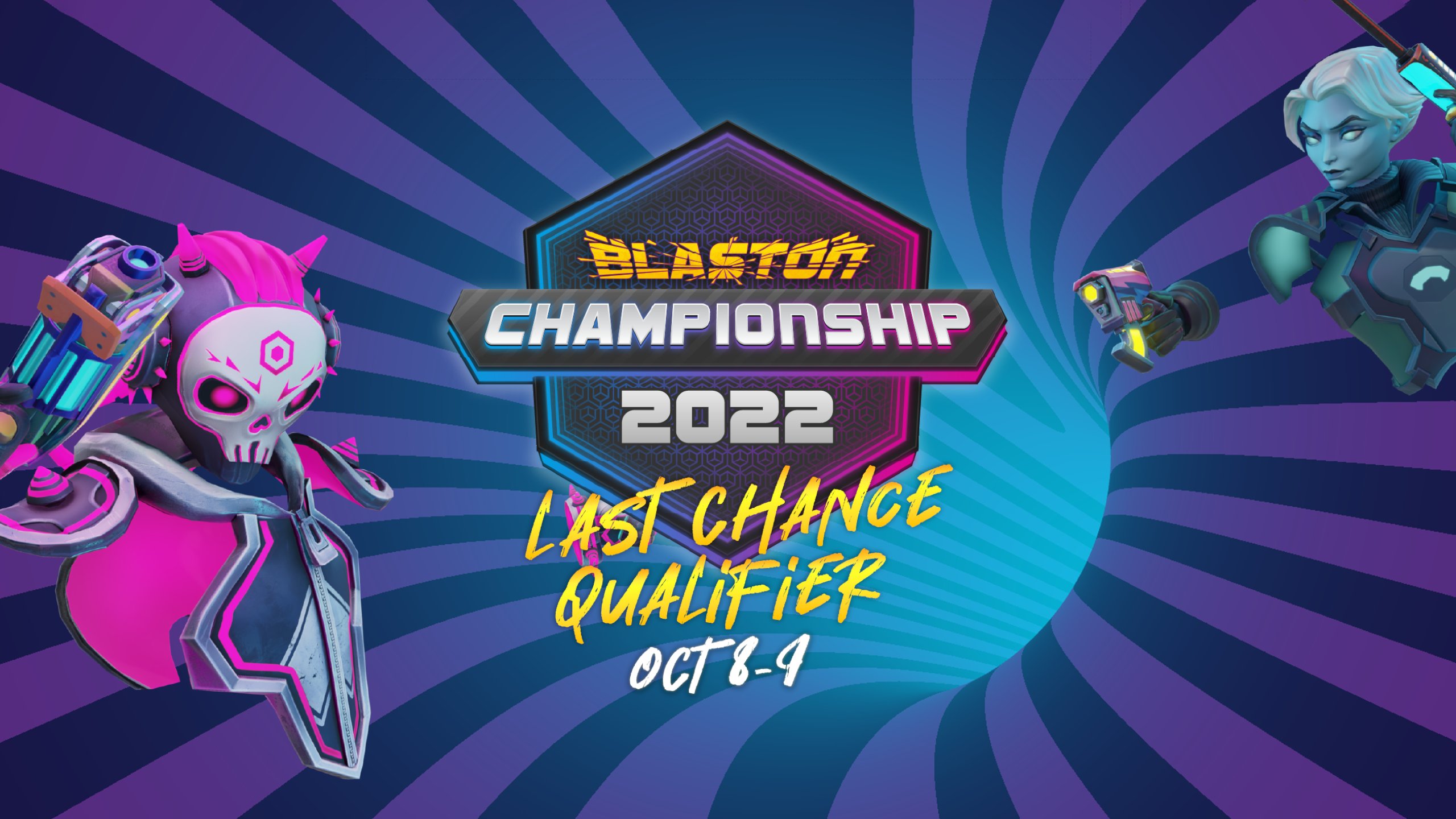 Blaston VRML Season 1 Championship Details!
Saturday begins 2 weekends of high-action Blaston; it's the Season 1 Championship! We're super excited to see the finalists play and show off the highly competitive side of this very physical game!
16 players, 1 champion, and $1,450 USD in cash and prizes from our sponsors, including sick in-game banners! You can find all the details on the championship page: https://vrmasterleague.com/Blaston/Championships/Season1
You can participate by trying to guess who will win! Let us know your predictions using the Challonge bracket. Make sure to leave your Discord ID tag so that we know who is the most accurate!

Where to watch?
Day 1 - August 6, 10 AM PDT/1 PM EDT/17:00 UTC
Horizon Worlds: ocul.us/3zYVREH
Twitch: twitch.tv/vrmasterleague
YouTube: youtu.be/fJYiCup9Nqk
Facebook: fb.me/e/4Zh38jSh6
Day 2 - August 7, 10 AM PDT/1 PM EDT/17:00 UTC

Day 3 - August 13, 10 AM PDT/1 PM EDT/17:00 UTC
Horizon Worlds: ocul.us/3P1U6uX
Twitch: twitch.tv/vrmasterleague
YouTube: youtu.be/KiLxH2iBmMI
Facebook: fb.me/e/1CMYjpYlF
Grand Finals (Day 4) - August 14, 10 AM PDT/1 PM EDT/17:00 UTC
Horizon Worlds:
Twitch: twitch.tv/vrmasterleague
YouTube: youtu.be/ZM7rm0WOgpM
Facebook: fb.me/e/6RqirXofY
Join us! And, bring your friends. Let's get #VResports trending!


Horizon Worlds:
It's an all-access pass to amazing VR content, including big name music performances, exciting sporting events, community activities, cool film experiences and more. Download it free here: https://www.oculus.com/experiences/quest/2532035600194083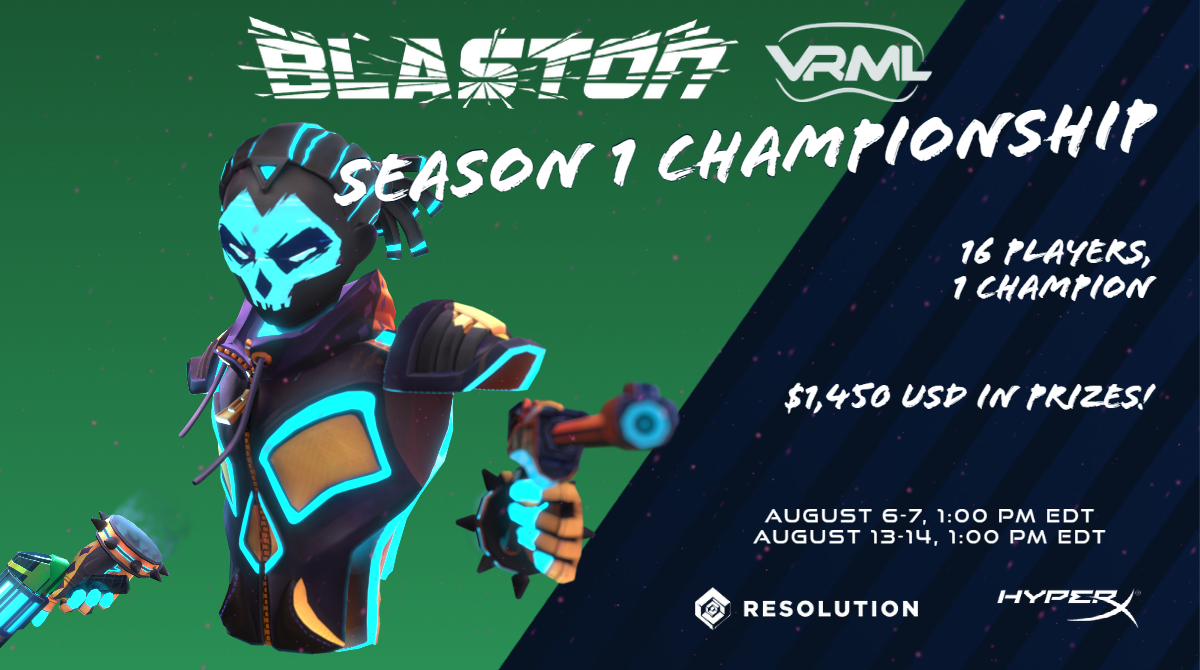 Get Ready for the Echo Arena VRML Season 5 Championship!
After 3 cycles of 4 weeks of regular play, 3 Challenger Cups, and over 6,000 matches played, it's TIME! The best of the best from OCE-Asia, Europe, and North America will be playing for 1st of each region and prizes from our sponsors!
The tournament starts Saturday May 14 and will conclude Sunday May 15. Tune in to see all the exciting action and you may get a chance to win some cool prizes from our sponsors! Scroll down to find out each region's finalists, schedule, and links to stream.

OCE-Asia
Congrats to FreeVR, Leviathan, Elijahs Lemons, Forsaken, Astrea, and Villain for being this season's finalists!
They'll be playing in a double-elimination bracket, starting at Saturday 2200 PDT (Friday), 0100 EDT, 0500 UTC. Sunday, we'll crown the winner!
Watch it LIVE on
twitch.tv/echoarena_vrml
twitch.tv/echoarena_vrml2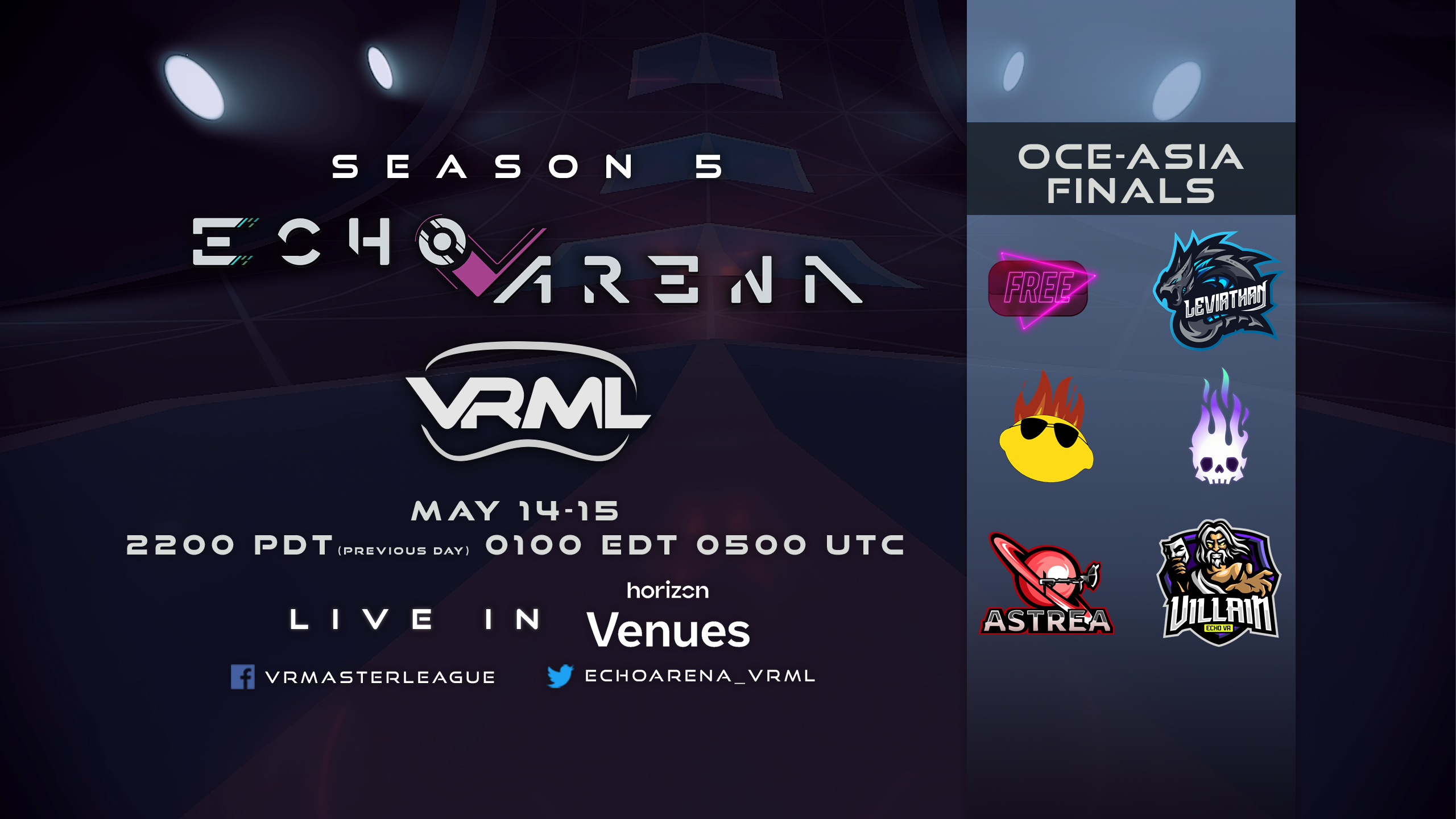 Europe
Our European finalists are Vertigo, Blast!, Team Gravity, Scuffed, Phantoms, MEN, T.E.A.M, Koi, Typhon, and Dauntless!
Saturday, catch these matches LIVE in Horizon Venues, Twitch, YouTube, and Facebook:
Horizon Venues: ocul.us/3w6e15m & ocul.us/3PiWG10
Twitch: twitch.tv/vrmasterleague, twitch.tv/echoarena_vrml2, twitch.tv/echoarena_vrml3
YouTube: https://youtu.be/DBPxqtwgLOU & https://youtu.be/W_yA4FT8gog
Facebook: https://fb.gg/vrmasterleague
North America
Ignite, Instinct, The Bite of '87, Ethereal, Oceans, DISORIENT, Overkill, Anomaly, Ace, and Redshift are our Season 5 NA Finalists!! Watch them compete LIVE this weekend on all our channels:
Horizon Venues: ocul.us/3yrnExj & ocul.us/3M9Azb7
Twitch: twitch.tv/vrmasterleague, twitch.tv/echoarena_vrml2, twitch.tv/echoarena_vrml3
YouTube: https://youtu.be/66H0l1uWwh4 & https://youtu.be/5mNbchM3lQ4
Facebook: https://fb.gg/vrmasterleague
Good luck to all our participants! Hope to you see all at the Finals!
Blaston VRML PreSeason Invitational - April 23rd
Hello present and future Blastonians!
To get ready for an upcoming season, VRML is excited to launch the Blaston Invitational!! For this event, we've invited 8 players to battle LIVE on stream for a $300 prize pool sponsored by HyperX!
The tournament is set for April 23rd at 1200 PDT | 1500 EDT | 1900 UTC
Streamed to https://twitch.tv/vrmasterleague and in Horizon Venues ocul.us/3K6QVPS
We'll be handing out game keys on stream! So, make sure you get your friends to tune in too!
The 8 players invited to this event are:
jjjosie19
24
Tim611
Weso
WudiPlaysYoutube
RoboPresident
Turb0
Apollyon
Good luck to all and keep your eyes on this channel for an announcement about the new season for league play!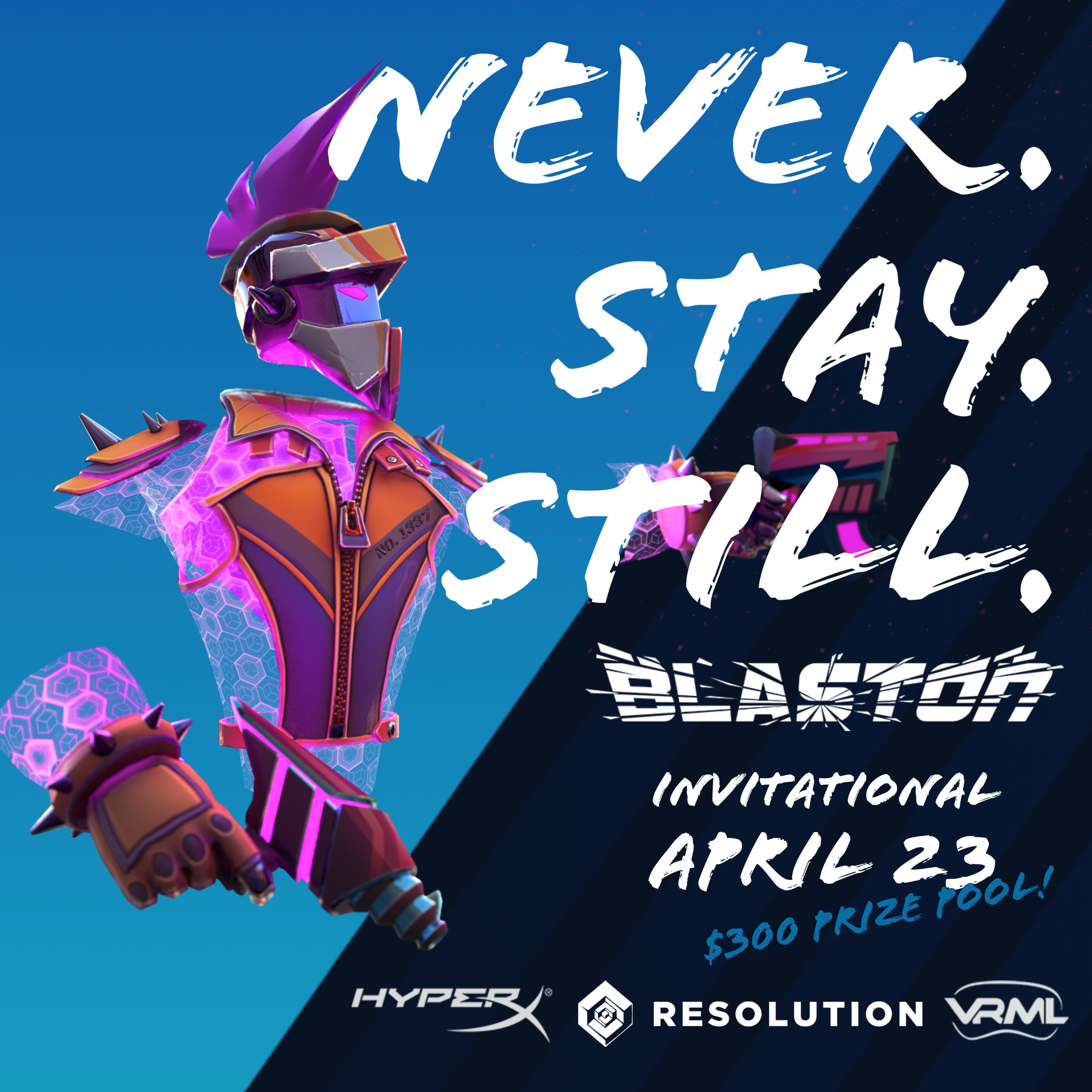 Season 9 Championship Finals are This Weekend!
North American, European, and APAC top teams battle for the crown and $7,500 prize pool! Join us for excellent Pavlov VR and giveaways!
APAC Finals - Saturday April 16th, 2000 AEST (0600 EDT)
Billabong Bogans vs Maws 'n Paws
Vying for the title of APAC Champions and $900 USD prize pool, this battle is one in the making! In three encounters, Maws 'n Paws have overtaken the Billabong Bogans twice. Billabongs have a great track run this season, finishing 2nd!
European Semi-Finals - Saturday April 16th
Crimson Claw vs Finnish Bear Influenced at 1130 EDT
Old People vs Friendly Fire at 1330 EDT
FBI snagged the final spot in the Semi-Finals with an impressive upset during last week's closed qualifiers! They'll be going up against 1st place Crimson Claw. Can they pull off another upset against this undefeated team? Then, Old People and Friendly Fire will be facing off! Exchanging blows all season, this match will be down to the wire as both teams fight for spot in the Finals! The winning team of each match will qualify for the Grand Finals, while defeated teams will play for 3rd place in the Bronze Medal Match.
North American Semi-Finals - Saturday April 16th, 1830 EDT
REKT vs Dream Team
Vortex vs MyVoltronList

One of the 10 biggest rivalries of all time, REKT and Dream Team are playing again for the coveted 1st place! Vortex and MyVoltronList are also in the mix, both looking to make it their year as Champions! Who will move on to the Finals? Who will be eliminated? The winning team of each match will qualify for the Grand Finals, while defeated teams will play for 3rd place in the Bronze Medal Match.
European Finals - Sunday April 17th

Bronze Medal Match at 1130 EDT
Grand Finals Match at 1330 EDT
North American Finals - Sunday April 17th, at 1830 EDT
Bronze Medal Match
Grand Finals Match
This is it! These matches will be the last chance for these teams to give it their all and take home a piece of the prize pool! Join us for the conclusion of Season 9!
Full Championship Details: https://vrmasterleague.com/Pavlov/Championships/Season9
Live on Twitch! http://twitch.tv/pavlov_vrml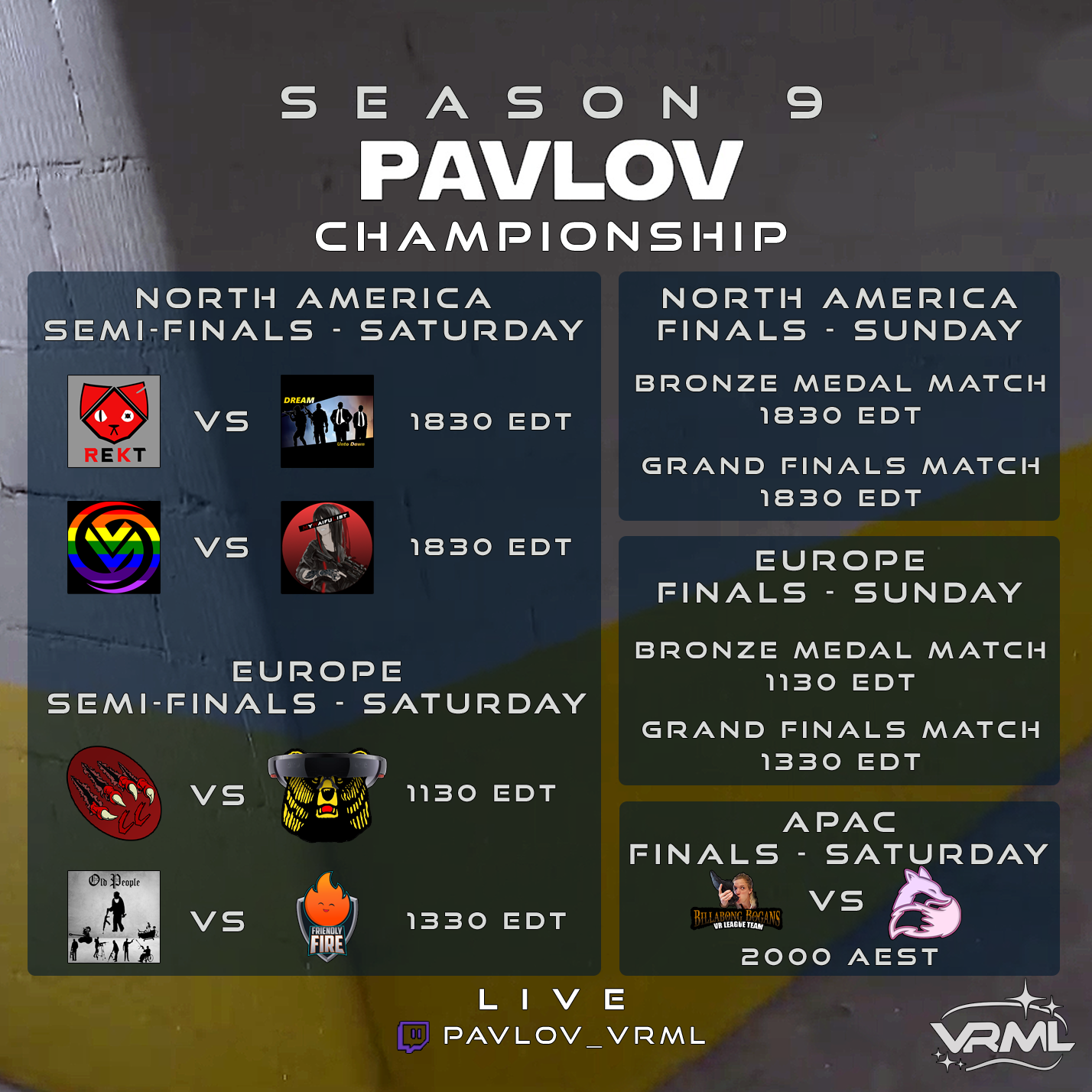 ANNOUNCING NEW PARTNERSHIP!
VRML and Resolution Games are coming together to bring you Blaston VRML!
We're super excited to add Blaston to the VRML family! Check it out!
Steam: https://store.steampowered.com/app/1427890/Blaston
Meta Quest (Oculus): https://www.oculus.com/experiences/quest/2307085352735834
Join us in Discord as we get geared up for events and a competitive season: https://discord.com/invite/blaston
And, stay tuned for upcoming announcements!
We're looking for volunteers to help drive the league! If you're interested in being a moderator, caster, content creator..., apply today!
Forms are available here: http://vrml.gg/Careers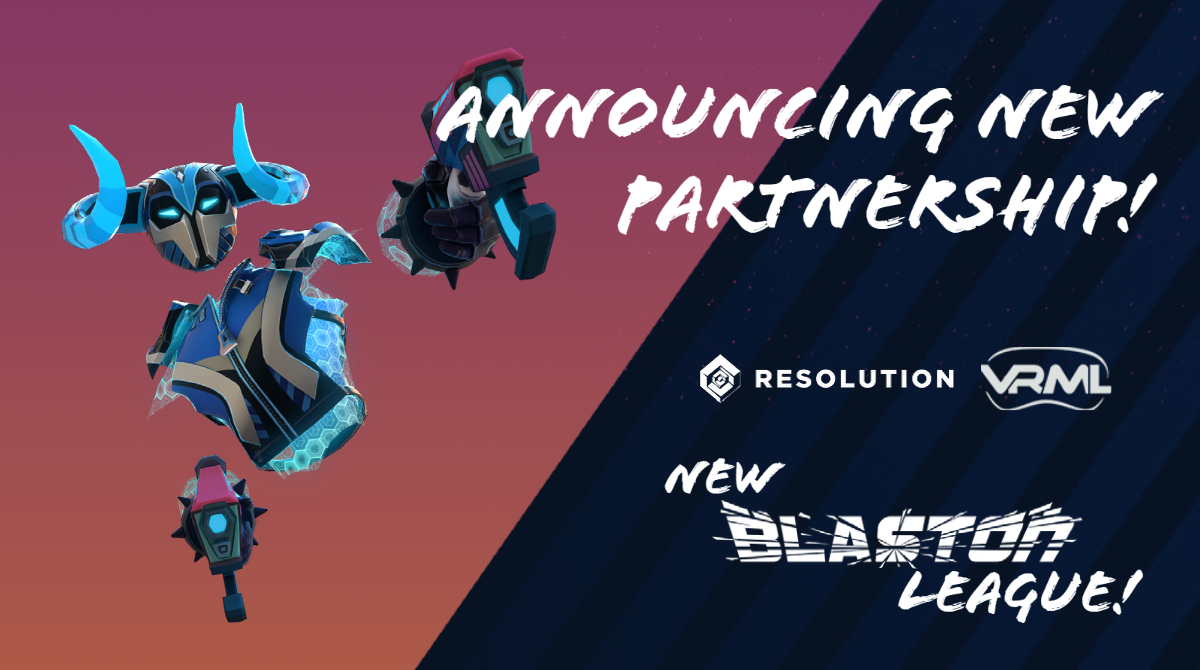 HAPPY 5TH BIRTHDAY, VRML!
That's right, VR Master League turns 5 this year! In early 2017, a group of Onward players got together to form the league and play weekly matches. Since then, VRML has been bringing a platform to VR gaming communities looking to standup a competitive scene.
It's really incredible what can be achieved by a community that works together!
We want to celebrate by giving back to you. Follow us on social media and in Discord for upcoming giveaway announcements and events!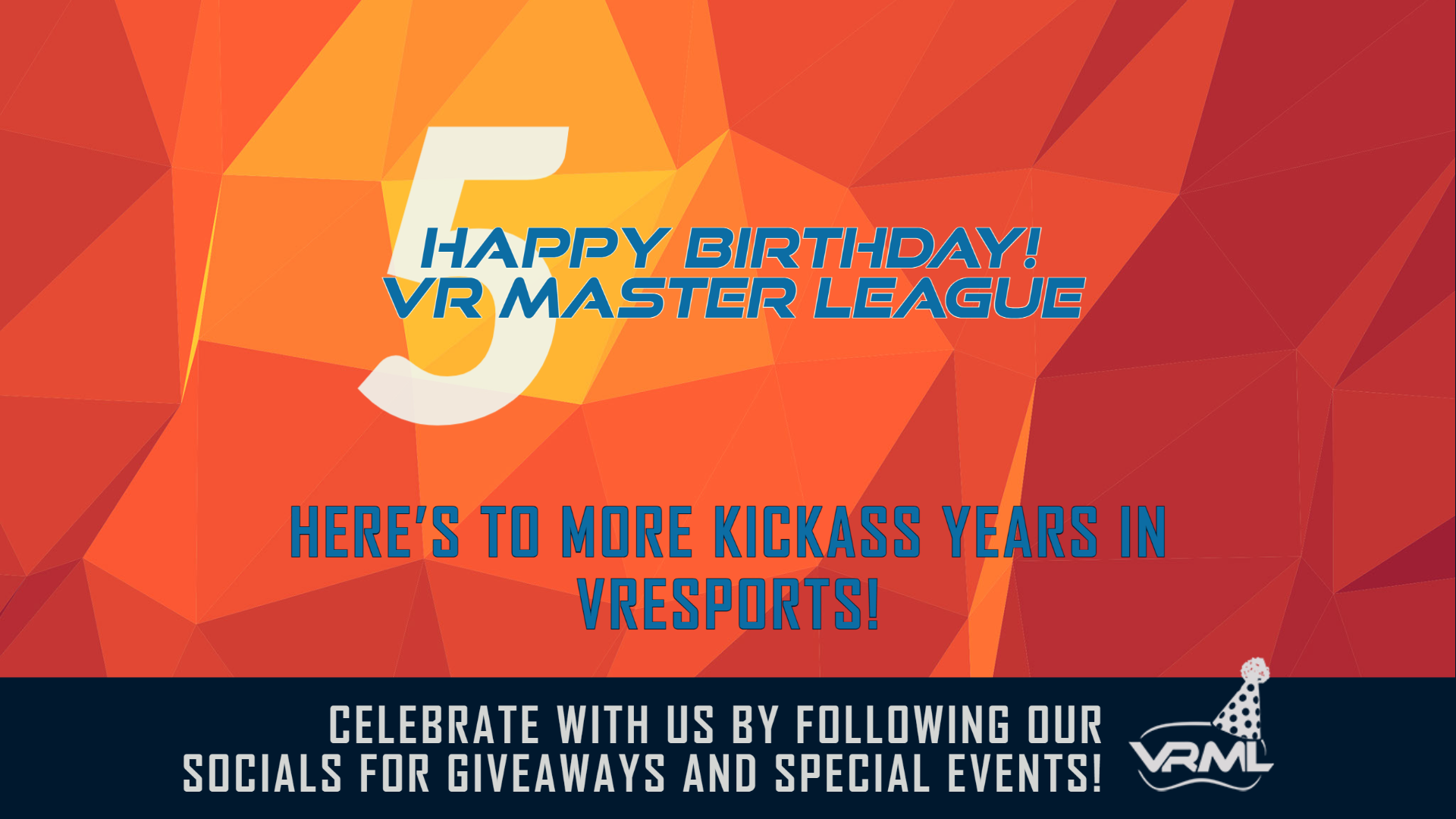 Echo Arena VRML Season 5 Start Date and Calendar Announced!
VRML is happy to announce an official start date and season format for Echo Season 5! The first matches will be generated on Monday, January 24th.
The Master Qualifier tournament will be the weekend of January 21st. If you created a new team, an MMR recalculation is automatically done. If you significantly changed the roster of an existing team, please open a ticket to get a recalculation. After recalcs, the top 16 teams will be eligible to compete for the Masters spots. The NA qualifier will be on Friday night and Sunday, while EU will be Saturday and Sunday as usual.
The season will be three cycles of four weeks, with a Challenger Cup at the end of each cycle. There will also be an Elite Cup at the end of the first and second cycles, which is a tournament the top 8 Master teams will be playing in the same weekend as the Challenger Cup. Finals will be the weekend after the third Challenger Cup. With this start date and season format, none of the planned LAN tournaments that VRML is aware of will fall on a Challenger Cup/Elite Cup weekend or during Finals.
There will still be 10 Master teams. However, with 4 week cycles, this makes things a little tricky to get 9 matches done. What will most likely happen (pending website testing) is each Master team will get three matches in the first week of the cycle. One of those matches will be a 'flex match,' meaning it can be played any week during the cycle. Playing it another week will not count toward a team's postponements. There will be more info on this soon, we are still working out the last of the kinks and planning.
Looking forward to seeing everyone in the arena soon!
Zero in on your goals & sign up today!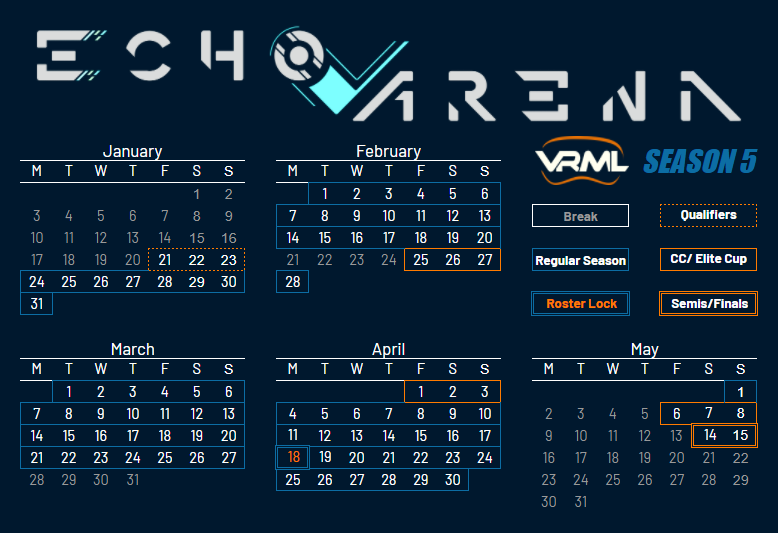 Website http://vrml.gg/echoarena
Discord Server http://discord.gg/SBb628eJuQ
Onward VRML Season 12 is Underway!
With over 100 teams from North America, Europe, and OCE/Asia participating weekly, this is gearing up to be our biggest Onward season yet!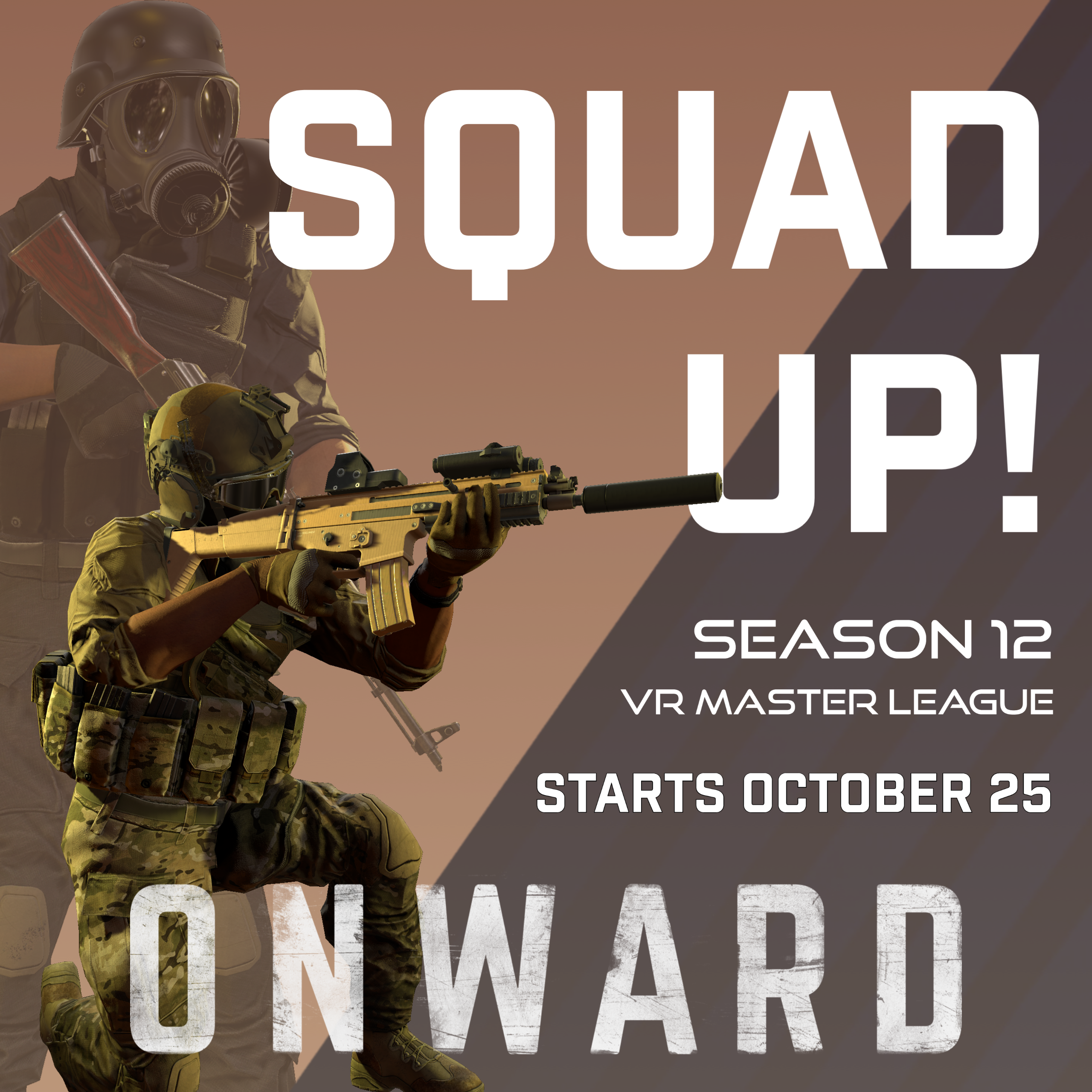 Prizing
So far, HyperX, ProtubeVR, and VRML have contributed over $5,000 USD in cash and gear for the season 12 prize pool! Stay tuned, we'll be announcing more contributing sponsors and increases to the pool during the season.
We're Back on Horizon Venues!
VRML is happy to announce that we will continue having Venues showcases every week! Horizon Venues is a social viewing app available on the Quest and Quest 2. It's a great way to watch Onward matches with friends on the big screen!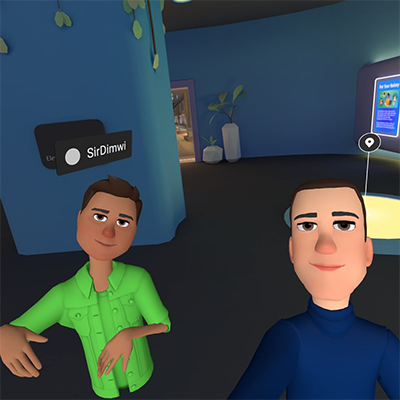 However, we would like everyone's help when doing this. Listed below is the showcase times. If a team is interested in being features on Venues and can schedule their match at that time, then do it! Then, based on who is available at that time and which matches seem to have the most hype (match upvotes on the website), casters will choose which matches to be featured. You can view the complete Horizon Venues schedule here.
Showcase 1 - Saturdays 1800 PST | 2100 EST | 0200 UTC
Showcase 2 - Sundays 1200 PST | 1500 EDST | 2000 UTC
This app is available on the Quest and Quest 2. Showcases will also be featured on Twitch, YouTube, and Facebook!
New Moderators & Casters!
Join us in welcoming our new mods: ICWoods, Shiba, Typic, and ImDonnie! They will be joining Fitz in organizing and moderating the season. If you have a question or just want to say hi, join the Discord!
There are also new faces on the casting team! Grenade Magnet, Nomad, and Lord Visceral will be commentating matches on our official Twitch channels (OML1, OML2, OML3, VRML). Be sure to join the streams to cheer them on! More casters might join the team before the season is done. If you're interested in applying, find the registration from here.
Season 12 League Format
Much like in previous seasons, league operates with a ladder format. Eligible teams will be assigned one (1) match and have the opportunity to play an additional challenge match. Winning matches will improve a team's rank, climbing the ladder. Matches are generated every Monday around noon EST. Make sure your team is active before then to receive a match!
This season is fifteen (15) weeks long with an additional three (3) weeks for post-season events such as the Challenger Cup (an Open Qualifier Swiss Tournament), the Close Qualifier Round-Robin Tournament, and the Finals. Climb the ladder to qualify!
If you're a new team, you will need to play three (3) matches to reveal your matchmaking rank (MMR). Subsequent matches should reflect skill level more accurately and as the season progresses. So, if your 1st three matches were tough, don't worry! The ladder will place you against teams of similar strength.
If you'd like to sign up as a reservist (league substitute), sign up here.
Season 12 Map Pool
Based on the results of our recent captain votes on how many total maps were wanted to be in the active pool and which custom maps to include, the map pool will include five (5) DPI native maps and three (3) Custom maps for a total of eight (8). The ban process will be the same as previous seasons, resulting in six (6) maps left to choose from for any official VRML matches.
The map pool for Weeks 1 to 5 will be as follows:
Customs: Shipyard, Sand, USS Quest
DPI (native): Cargo, Subway, Abandoned, Snowpeak, Quarantine
For Weeks 6 to 10, the map pool will be:
Customs: Arctic (Day & Night), Paradise, The Hook 2.0
DPI (native): Bazaar (Day & Night), Downfall (Day & Night), Suburbia (Day & Night), Subway, Tanker
The 3rd map pool will be confirmed and announced no later than 2 weeks before the Monday of Week 9, and we will again have the Team Captains vote on what custom maps will be included in it.
Rules
In the off-season, the moderators made some tweaks to the rules based on community feedback. Make sure to review them in detail here. Thank you to everyone who filled out the Season 11 survey!
Good luck to all participating players! Happy to see you in chat and on the battlefield!
Congrats to Our Echo Arena VRML Season 4 Champions!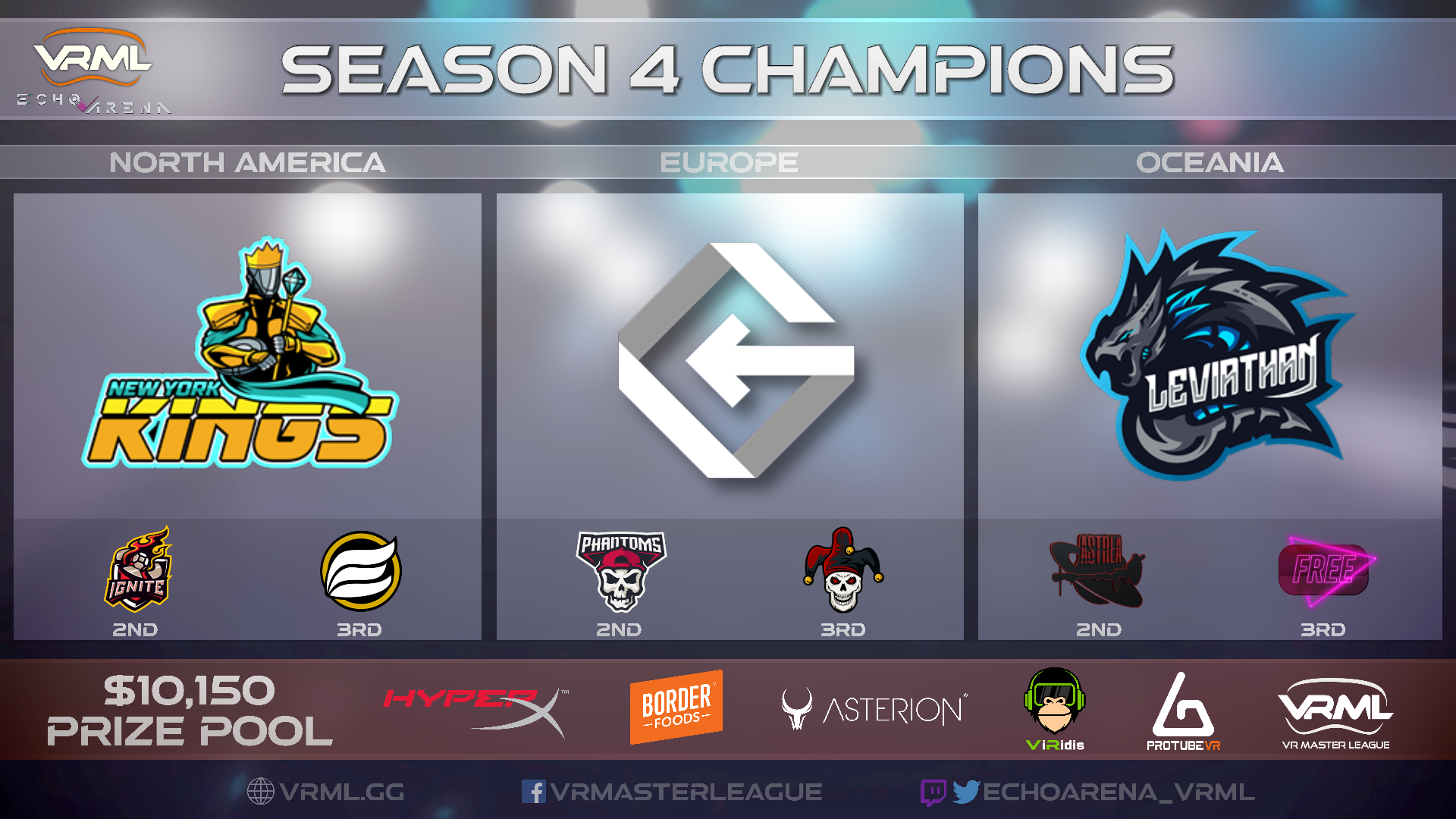 OCE: Leviathan
EU: Team Gravity
NA: New York Kings
Congratulations to these teams for winning the championship this season!! Great job to all teams that participated in the Finals, and to all the teams throughout the season!
Season Report
75 Suspensions
5 Bans
Max number of teams competing in a week: 407
Max number of matches played in a week: 444
Number of players participating: 4,518
More stats can be found here.
Season 4 Badges/Tags/Banner
Currently the release date is unknown. We are actively working on getting those out, but it may take a few weeks.. Please read through the #season-4-badges channel in Discord. That is where updates and more information about badges will be posted. If your username on the VRML website does not match your Oculus username, you may not receive the badge.
Season 4 Connoisseurs
Echo Arena Bracket Winners
OCE: esxx has a perfect score (20 pts)
EU: beaver_ (32 pts, perfect is 36 pts)
NA: Ow (26 pts, perfect is 36 pts)
Top Season 4 Connoisseurs
1st place is Novius (92% success rate, 193 guesses)
2nd place is Tambaa (94% success rate, 79 guesses)
Honorable mention to… MadThrasherXXI (88% success rate, with a whopping 355 votes!)
Season 5
Currently there is no start date for Season 5, and there is no estimated start date. The planning of a season does not happen until the previous season is over, so it may take us a few weeks before we have more details. However, we do have a Season 4 Feedback Form for you all to fill out. After the feedback form is filled out and the Moderators have reviewed it, then a 'Season 5' channel will be opened for discussions.
Applications
If you are interested in being a Moderator, Governor, or part of the production team - fill out an application! The links for all applications are in Discord.