Welcome to VR Master League!
Welcome to VR Master League!

At VR Master League, we are passionate about bringing the exciting world of virtual reality gaming to enthusiasts, competitors, and fans from all corners of the globe. Whether you're an experienced VR gamer or someone just dipping their toes into this immersive medium, we're thrilled to have you join our community.
Who We Are

VR Master League, often abbreviated as VRML, is a premier hub for competitive virtual reality gaming. We provide a platform for gamers to come together, test their skills, and compete in various VR titles. Our community is built around the shared love for virtual reality gaming, and we strive to create an inclusive and engaging environment for all.
Our mission is simple: to support and promote VR gaming at its finest.We aim to elevate the VR gaming experience by organizing and hosting competitive leagues, tournaments, and events across a wide range of VR titles. Whether your interests lie in first-person shooters, sports simulations, or strategy games, we have something for everyone.
What We Do

VRML operates on the principles of fair play, sportsmanship, and camaraderie. We offer a range of benefits to our community members, including:
Competitive Leagues:
We organize and manage leagues for various VR games, allowing you to prove your skills and earn recognition as a top VR athlete.
Tournaments:
Take part in thrilling tournaments where the best players compete head-to-head for glory and prizes.
Community:
Join our vibrant and passionate VR gaming community, where you can connect with like-minded individuals, discuss strategies, and share your VR experiences.
Discord Servers
We maintain dedicated Discord servers for each supported game, providing a central hub for discussion, recruitment, and finding teammates.

Breachers - <Link>
Onward - <Link>
Pavlov - <Link>
Tennis Esports - <Link>
Snap Shot - <Link>
Blaston - <Link>
Ultimechs - <Link>


How to Get Started

Getting started with VRML is easy! Follow these steps to become a part of our community:
Sign-Up:
Create an account on our website to get started. This will give you access to the latest updates, league information, and upcoming events.
Choose Your Game:
Explore our supported games and find the one that resonates with you. Whether it's an FPS, a sports game, or a strategy title, there's something for every VR gamer.
Join Discord:
Join the relevant game-specific Discord server to connect with fellow gamers, stay updated on league announcements, and find teammates to form your VR dream team.
Practice and Play:
Dive into the world of competitive VR gaming, practice your skills, and participate in leagues and tournaments. Challenge yourself and compete against the best.
We are thrilled to have you join the VRML community and look forward to seeing you in the VR arena.
Together, we will continue to push the boundaries of virtual reality gaming and make it an unforgettable experience for all.
Welcome to VR Master League!
Sunset Cup Qualifiers - May 6 & 7
What's happening this weekend?
VRML Sunset Cup
Qualifiers May 6-7
From all who signed up to play in the qualifiers, only 6 teams will advance to playing on a live stage at our 1st in-person event on June 4th in Denver, CO! Good luck to all!
Want to see the Sunset Cup Finals live? Get your ticke to VRML Con 2023 here: http://vrml.gg/lantickets Hurry! There may still be discounted hotel rooms still available.
VRML CON INFO
Hey everyone! I know we are all super hyped for VRML Con and the Sunset Cup which we will be hosting ONLINE AND AT THE CON so here is a FAQ to help prep you for the Sunset Cup online Qualifiers!

Who can play in the Sunset Cup?
Anyone of the first 32 teams to sign up can compete in the Sunset Cup Tournament Qualifier. The top 8 teams will compete live on stage in Denver
How are teams for the Sunset Cup made?
Players may choose their teams. VRML wont be making the teams or restricting the rank of players allowed on each team. We want everyone to have fun, so play with your friends, current teammates, or whoever else you want to team up with! Teams will be capped at 6 players.

How do we register for the Sunset Cup Qualifier?
We will be releasing a form for sign-ups in the coming days in the EA VRML server. When this form comes out Team Captains will have to submit a response with information about their team in order to enter.

What information do I need to know in order to sign-up?
Only Team Captains will have to fill out the form, so if you aren't a captain of a Sunset Cup team then you don't need to worry about the form. However, if you are a captain, some information you will need to know is; team name, who is on the team, VRML player pages for each teammate, ticket confirmation numbers, if you are available to play a tournament during the week of May 1-7th. More questions may be added later
When is the Sunset Cup Qualifier happening?
We will host the Qualifier the week of May 5-7th. Exact days and time will be determined closer to time when we know how many teams have signed up. This qualifier will determine who will play live on stage at VRML Con.
How many teams will play live on stage at VRML Con?
8 teams will qualify to play live at VRML Con on stage.
What type of tournament will this be?
VRML Con's tournament format is a round robin with the last few rounds being single elimination, as for the online qualifiers that is still being worked on and we are hoping to get some more information to you all soon.

Thanks for taking the time to read, We cant wait to see you at VRML Con!
Update on Season 7 Format
Matches are back this week! We hope you had a bit of time to think on the earth shattering news that EchoVR is to be sunsetting on August 1st. We thank everyone who filled out the feedback forms and let us know how they intend to spend the next couple of months. We appreciate your honesty! We also greatly appreciate those who are committed to playing out the season and are shining a positive light on the community and the league.
Changes to Season 7 Schedule
After many discussions and reviewing the feedback given from the community about Season 7 and VRML Con, we have made some changes. These changes were not made lightly and will be an adjustment. So, please read the entire announcement.
Removal of NA Master Tier
The NA Master Tier will be removed. With the announcement of Echo VR being shut down in August we were unsure of how the community would react, that was the reason for the feedback form. When reviewing this and having discussions, it was decided that shutting down the NA Master Tier, effective immediately, was the way to go. Of course, this news did not just affect players. We have lost some interest from our Moderators and Production teams, which is understandable, but makes it hard to run larger events. As well, when talking with the Master players and reviewing their feedback, it was discovered that player commitment to finish out the season was uncertain.
Calendar Adjustments
With the removal of NA Master tier and cancelling the CCs, we have made a new calendar to reflect these changes. Matches will begin again next week. The next break week will be March 20th. Please see the new calendar below... we will announce later what May 1-7 is for. Right now it is blank.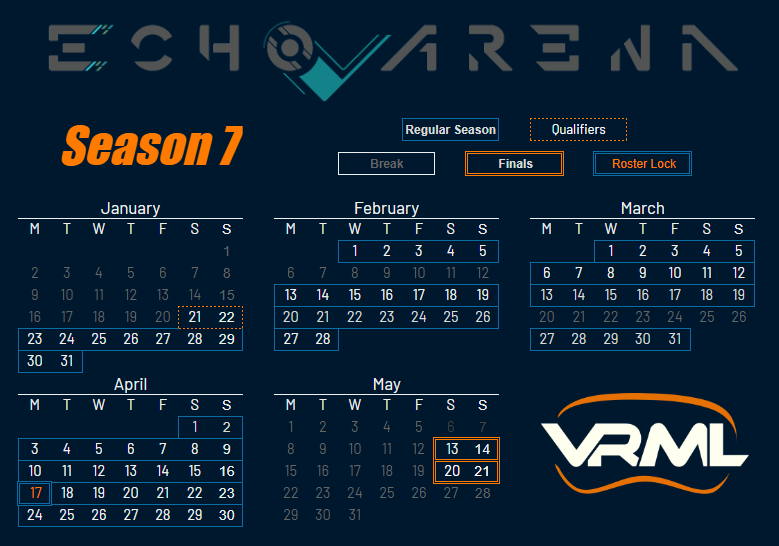 Clarification on Hotel Information
The hotel information will be sent via email to those who have purchased a ticket in the next couple of days!
New Moderation Lead
We would like to give a huge congratulations to Domie for becoming a Lead for Echo Arena VRML. Domie has been a mod for almost a year now and has done excellent work. Once Season 7 finishes, he will transfer over to Ultimechs VRML to be a Lead for their league.
If you have any questions, please don't hesitate to join the Discord server and ask! We intend to make sure your time in Echo Arena is fun, challenging, and filled with memorable moments. Let's squeeze every last bit of fun!
Palidore said it best: https://www.tiktok.com/@palidore/video/7197595459144240426
Feedback for Season 7 and VRML Con
We know it has been a rough couple of days, thank you for hanging in there with us!
It has been amazing seeing how our community comes together and is really supportive during this time. However, due to the announcement of Echo VR being shut down in August, we do need your help figuring out what we should do next.
Please take a few minutes to fill out the feedback form linked below. This form is only a couple of questions and will help the Moderators decide how to proceed with Season 7 and VRML Con. The feedback will be reviewed next week during our break.
If you missed our last announcement, please read below.
Feedback form: https://forms.gle/GqwG4xBw8X1M2o5o8
EchoVR's Final Months & VRML
Hello, everyone.
With regard to this announcement from Ready at Dawn: https://medium.com/@EchoGames/an-update-on-the-future-of-echo-vr-7f074dca1ed1
We want to first say that we feel the same hurt that you all do about the recent announcement. Echo Arena is more than just a VR Game. It has been a home to so many of us. A place where we've met best friends, started new families, created new businesses, reignited old passions or set fire to new ones, and challenged ourselves in ways we never have before. Seeing it come to an end was the last thing any of us expected. We were as shocked at the news as you are and share in this deep disappointment.
We understand that among the reactions and emotion that there are going to be questions with regard to Echo Arena VRML, Season 7, VRML Con, and VRML generally. So allow us to outline our intentions moving forward.
1) VRML Con will still be happening.
We will have more information on what this will look like for Echo Arena, but we intend to go out with a bang.
2) Season 7 will finish mostly as scheduled.
Next week, we will be going in to an impromptu off-week. During this off-week, we will be taking inventory on exactly where we are and exactly how to move forward. This will also allow teams to reconfigure their rosters and make adjustments.
a) If you can play your games this week, we encourage you to do so, though we understand that this may be difficult.
b) If your team is not going to continue, we ask that you be courteous to the other teams that intend to finish the season and mark your team as inactive.
VRML is not going anywhere.
This organization started in 2017 with Onward, and has since expanded to several games, of which Echo Arena was just one. While this situation is not ideal, the upcoming closing of Echo is heartbreaking, VRML will continue on as it has for the last 6 years. We will update you all with more information next week once everyone has had time to digest this announcement. In the meantime, we will be mourning right along side you.

Video by Richjie, follow and subscribe for excellent content!https://www.youtube.com/watch?v=rHHn6cWtD0o
Season 6 Finals Recap & Season 7 Start Information!
Master Tier Team Registration
Teams that would like to participate had until Monday, January 9, 2023 12:00 PM to finalize their rosters and set their teams to "Active" on the VRML website. Changes after this date & time = Team no longer eligible.
Registration closes Friday, January 13, 2023 12:00 PM https://forms.gle/z3XXGBxoHrtpbWFv9
If you believe your team might be eligible for the Master Tier Qualifier, please fill out the above form. If you're near the line and not sure, go ahead and fill it out. Once registration closes, we will recalc where necessary and then organize the teams in order of MMR. The top 16 (not including the 2 auto-qualifying) teams will be invited to participate in the Master Tier Qualifier.
Once all teams have been confirmed, the mods will release the team list publicly.
Master Tier Qualifier Schedule
- The tournament will be played on a single day over 5 rounds.
- Each round will be 45 minutes long (just under 4 hours)
- Teams in each round will play simultaneously.
- https://www.twitch.tv/VRMasterLeague will be live, + up to 2 more channels, pending availability.
Master Tier Qualifier Format
This modified-swiss tournament is designed to start with 16 teams and declare 8 winners. Teams compete until they have either Won 3 games or Lost 3 games, whichever happens first. Once again the Top 2 Returning Teams from the end of Season 6 will be Auto-Qualified for Master Tier to start Season 7.
SEASON 7 BANNER DESIGN
Talking about Season 7 corrections and badges/tags... here is the design! We have received questions recently about the community being able to help design and give out ideas. To answer this, yes of course anyone can share their ideas and designs. We will look at options for community involvement in an easier way, but for now please share the ideas via a ticket in the VRML Support Server.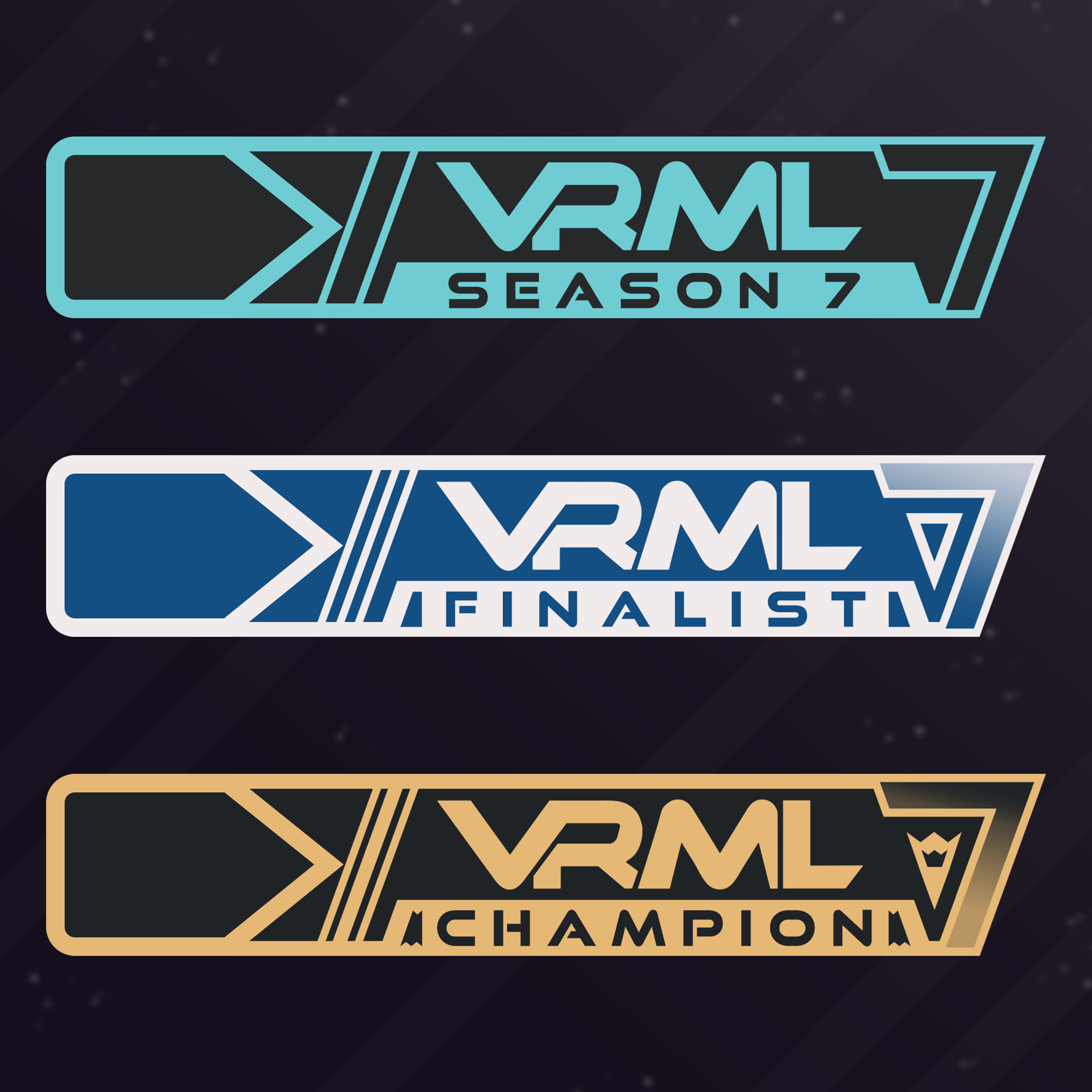 ARE YOU READY?
Here is your checklist:
1. Are you in the Discord server? If not, right this way https://discord.gg/SBb628eJuQ
2. Are you looking for a team? Check out the recruitment channels in Discord and contact team captains in your region. https://vrmasterleague.com/EchoArena/Recruiting
3. Already got a squad? Create a team! https://vrmasterleague.com/EchoArena/Register Make sure you've assigned your team captain and co-captain their roles and that at least one of you is in the Support Server https://discord.gg/48JWECFQy7
4. Have your teammates read the rules? Make sure to read them and then read them again here: https://vrmasterleague.com/EchoArena/Rules Any updates to the rules will be announced in Discord. Feel free to ask questions!
5. Is your team set to "Active"? Make sure your team is activated prior to Monday, January 23rd to get matches. The admins may put all teams as "inactive" this week to make sure there are no false starts when matches are generated.
6. Have fun!
STAY CONNECTED!
Last but not least, follow us on all our social media to not miss casted match announcements, clipped plays, and general VR esports goodness!
Twitter: https://twitter.com/EchoArena_VRML
Facebook: https://facebook.com/@VRMasterLeague
Instagram: https://instagram.com/@VRMasterLeague
TikTok: https://tiktok.com/@vrmasterleague
Twitch:
https://twitch.tv/EchoArena_VRML
https://twitch.tv/VRMasterLeague
https://twitch.tv/EchoArena_VRML2
https://twitch.tv/EchoArena_VRML3
YouTube: https://YouTube.com/c/EchoArenaMasterLeague
See you in the arena!
VRML Off-Season Updates
We are now into the Echo Arena off season and have already seen some major roster changes and teams form. Pre-season and season 1, 2, and 3 champions jokr is now back together, Season 6 champions the neighbors are now down to two players, and the return of a fan favorite wirless jacks is on the horizon. The VRML Moderation team has posted an announcement updating the rules changing some and adding more clearity as well. Stay tuned because if this has all happened in just a few weeks of the off season I'm excited to see whats next! If you are interested in Echo Arena VRML make sure to join us here
CONGRATS TO OUR SEASON 6 CHAMPIONS and.. More Exciting News!
SEASON 6 FINALS - THE DETAILS YOU NEED TO KNOW!
Last weekend, our finalists rose to the occasion and played their best to qualify for the Grand Finals! With $11,220 in cash and gear from our sponsors, HyperX, VR Cover, and Asterion Products, there's a lot on the line.
In OCE, the Japanese finalists, Villain, and the reigning champions, EXO Clan (formerly known as Leviathan), will be playing for the title of Season 6 OCE/Asia Champions! Having met 9 times in the last 2 seasons, Villain have only gotten one win off of EXO Clan, but they are determined to be this season's champions. Their progression and growth has been astounding. However, EXO Clan will not give up the crown without a fight. They are experienced and they are ready. Get to know the OCE/Asia finalists with these interviews:
Sunday, November 20th at 3 PM AEDT | 11 PM EST (Saturday), you can catch the Season 6 OCE/Asia Grand Finals on https://twitch.tv/echoarena_vrml
Bracket: https://challonge.com/EchoArenaS6FinalsOCE
In EU, the battle was hard fought and Blast! and Scuffed came out on top! Sunday, they'll meet again to play for that coveted title of Season 6 EU Champions. Both teams came very close in previous seasons. In Season 5, Blast! came second and Scuffed, fourth. Scuffed is the underdog with only one win against Blast! in two seasons. It'll be a great match and we wish good luck to all the players! Watch their interview here:
Tune into the Season 6 EU Grand Finals on all our platforms Saturday, November 20th at 11 AM PDT | 2 PM EDT | 1900 UTC :
Meta Horizon Worlds https://ocul.us/3hXcB8E
Twitch https://twitch.tv/vrmasterleague
Bracket: https://challonge.com/EchoArenaS6FinalsEU
In NA, the competition is fierce with many matches still to be played to determine our Grand Finalists. juice box, Hot Drop, The Neighbors, Ethereal, Vicious, and Instinct are still in the running. Saturday November 19th, the competition continues! Watch their interviews here:
Tune in here:
Saturday, November 19th - Semi-Finals starting at 1 PM PST | 4 PM EDT | 2100 UTC
Meta Horizon Worlds: https://ocul.us/3OedtSJ
Twitch: https://twitch.tv/vrmasterleague
Sunday, November 20th - Lower Bracket Finals starting at 2 PM PST | 5 PM EDT | 2200 UTC
Meta Horizon Worlds: https://ocul.us/3Gr4w6t
Twitch: https://twitch.tv/vrmasterleague
Sunday, November 20th - Grand Finals starting at 3:30 PM PST | 6:30 PM EDT | 2330 UTC
Meta Horizon Worlds: https://ocul.us/3Gr4w6t
Twitch: https://twitch.tv/vrmasterleague

Bracket: https://challonge.com/EchoArenaS6FinalsNA
And, we'll be doing MASSIVE GIVEAWAYS during the matches and on our social media accounts! Here is the link to our social media giveaway: https://vrmasterleague.com/FallFest2022


Good luck to all our finalists and community members!